Royals grateful for fans' support in comeback season
Royals grateful for fans' support in comeback season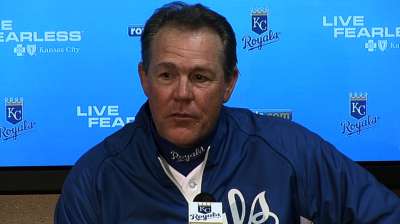 KANSAS CITY -- After a walk-off win on Sunday, the Royals had their best record at Kauffman Stadium since 1992, matching that season's mark of 44-37.
"We're getting to be a better team. That's why we have a better home record and we've got a better road record than we've had in a lot of times," manager Ned Yost said. "Especially the last month, the fans have really been behind us with a lot of excitement at the stadium. They talked earlier in the year about playoff atmosphere, not so much, but last night and the night before absolutely. That's the excitement that we want to bring to the stadium every single day."
Then the Royals went out Sunday and notched their 44th home win, their 11th in the last 15 games at Kauffman. Jeremy Guthrie said the fans have been a big part of his personal success at home, where he leads the Royals with a 9-5 record.
"They've been into every game and that's all you can ask for," Guthrie said. "They come out and supported us and I think that is usually the case when you win. You deserve to have the fans and our fans have responded, so that is a credit to them."
The Royals' hunt for the playoffs created a September surge in home attendance and the club finished with a total of 1,750,754 tickets sold, an average of 21,614 for 81 dates.
The home season finale on Sunday had a paid attendance of 27,899, but more than 31,000 were at Kauffman Stadium as season-ticket holders traded in unused tickets for the game against Texas.
This year's total was up from 2012's 1,738,859, but the average was down because last year there were just 80 dates for an average of 21,736.
Kathleen Gier is an associate reporter for MLB.com. Dick Kaegel is a reporter for MLB.com. This story was not subject to the approval of Major League Baseball or its clubs.