Reliable bullpen springing some leaks of late
Reliable bullpen springing some leaks of late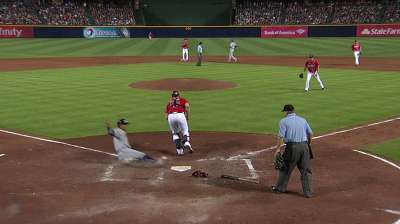 CHICAGO -- The Braves are positioned to produce the best bullpen ERA in franchise history, but the struggles experienced by their relievers over the past week have at least created some concern with the postseason approaching.
Entering Sunday's series finale at Wrigley Field, the Braves had blown leads in the sixth inning or later in three of their previous eight games. Their bullpen has allowed 13 earned runs in the 20 innings during this span. As a result, the club's Major League-leading bullpen ERA went from 2.29 to 2.45.
The 2002 Braves set the franchise record with a bullpen ERA of 2.60.
"We've had a lot of appearances and a lot of innings," left-handed reliever Luis Avilan said. "But I think everybody in the bullpen is trying to do their best. We're thinking it is just a bad week and we'll keep fighting and trying to do what we've been doing the whole season."
The recent struggles experienced by Avilan and right-handed setup man Jordan Walden have influenced this tough stretch. Walden has been ineffective in two of the three appearances he has made since missing three week with a sore groin. Avilan's ERA has risen from 1.17 to 1.60 as he has surrendered four earned runs and allowed opponents to hit .324 against him in 8 1/3 innings (12 apperances) dating back to Aug. 25.
Avilan admits that he has been feeling some of the fatigue that was expected as he nears the end of his first full season. His 72 appearances are three shy of Dodgers reliever Ronald Belisario's NL-leading total.
"I don't feel tired," Avilan said. "I just don't feel the same as I did at beginning of the season. But [the season] is almost over and we've got the playoffs. So I'll just keep throwing the ball."
Had Avilan and Walden been pitching like they had most of this season, the Braves might have preserved the 1-0, eighth-inning lead they had in Saturday's 3-1 loss to the Cubs. Kris Medlen was sent back to the mound having thrown 98 pitches entering the eighth. After allowing Starlin Castros' one-out single, Medlen saw Scott Downs and David Carpenter combine to allow the Cubs to produce a decisive three-run inning.
Mark Bowman is a reporter for MLB.com. This story was not subject to the approval of Major League Baseball or its clubs.