Kazmir joins Tribe's growing 150 K club
Kazmir joins Tribe's growing 150 K club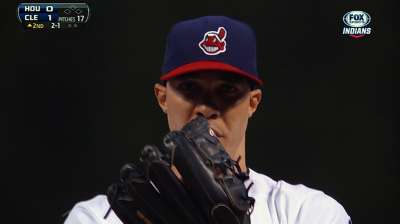 CLEVELAND -- J.D. Martinez swung and missed against a changeup from Indians lefty Scott Kazmir on Saturday night, heading back to the visitors' dugout without his bat. He flailed, lost his grip and flung the strip of lumber beyond the camera well down the third-base line.
It was an emphatic strikeout that ended the seventh inning and helped Cleveland extend a franchise record.
Entering Sunday's game against Houston, the Indians' pitching staff had piled up 1,291 strikeouts, marking the most in a single season in franchise history. Kazmir's 10 punchouts Saturday against the Astros also gave the Tribe three pitchers with at least 150 strikeouts, tying a club record.
"They've done a good job," Indians pitching coach Mickey Callaway said. "The overall approach is just to get ahead. The more times you get ahead, the more times you're going to strike guys out. That's the approach we've taken. Maybe look for a ground ball early and then, once you get ahead, then you have a chance to punch a guy out."
Justin Masterson (188), Ubaldo Jimenez (174) and Kazmir (151) represent the fourth trio in club history to have at least 150 strikeouts apiece. Cleveland also accomplished the feat in 2000 (Dave Burba, Bartolo Colon, Chuck Finley), 1966 (Gary Bell, Sam McDowell, Sonny Siebert) and 1965 (McDowell, Siebert, Luis Tiant).
Prior to this season, the club record for strikeouts in one year by a pitching staff was 1,218 in 2001.
"If you go up there trying to strike guys out from pitch one," Callaway said, "that doesn't usually lead to success. What we've done the best as far as getting strikeouts is we've kind of let them come to us, instead of just trying to strike them out from pitch one."
The Indians entered Sunday's action tied for first in the American League in percentage of 0-2 counts (26 percent) and in called strikeouts (323). Compared with last season, Cleveland has shown improvement in overall strike percentage, called strikes, swinging strikes, first-pitch strikes and 0-2 count percentage.
In Spring Training this year, Callaway posted the team leaders in first-pitch strikes and strikes on 1-1 counts on a daily basis. It was a way to emphasize early on the importance of getting ahead.
"We tried to stress that from Day 1; that was our main goal," Callaway said ."Teams that throw a lot of 0-0 and 1-1 strikes, the top seven or eight teams that lead that every year, have a good chance of getting to the playoffs."
Jordan Bastian is a reporter for MLB.com. Read his blog, Major League Bastian, and follow him on Twitter @MLBastian. This story was not subject to the approval of Major League Baseball or its clubs.