In second-half slump, Rizzo has manager's backing
In second-half slump, Rizzo has manager's backing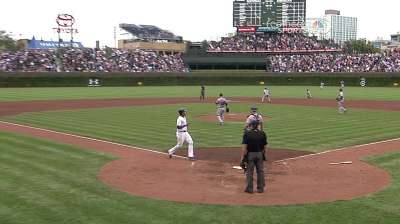 CHICAGO -- Cubs first baseman Anthony Rizzo has struggled in the second half of the season, entering Sunday's series finale against the Braves hitting .216 since the All-Star break with 23 RBIs after posting a .241 average in the first half with 54 RBIs.
Manager Dale Sveum said that while Rizzo has had his ups and downs, he's done well for a young player in the big leagues. He entered Sunday hitting .231 with 38 doubles, 22 home runs and 77 RBIs.
"It's his first time ever playing every single day in the big leagues," Sveum said. "It's his first time with the pressure of hitting third every single day, for the most part anyway. With 22 homers and 75, possibly 80 RBIs for a second-year player, that isn't the end of the world. … We've put him in a tough situation, being a young player."
Sveum said Rizzo will be able to learn from his highs and lows, having experienced the pressure of being an everyday player depended upon for run production at a young age.
"I think the learning process of that is out of the way, too," Sveum said. "We forget that everybody's going to have their bad year or whatever, and you get through it, especially at a young age, and you think, 'Wow, I've been there before. I know how to get out of it. I understand the process,' and so on and so forth. So you analyze the year and it's not as bad as everybody makes it out to be."
Manny Randhawa is an associate reporter for MLB.com. This story was not subject to the approval of Major League Baseball or its clubs.