Navarro proving to be invaluable in backup role
Navarro proving to be invaluable in backup role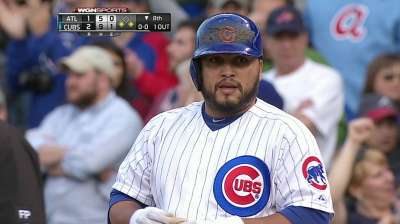 CHICAGO -- Dioner Navarro has proven to be a valuable backup catcher for the Cubs, embracing that role and having one of the best offensive seasons of his career.
Navarro -- who hit a game-tying home run in Friday's 9-5 loss to the Braves and a go-ahead single in Saturday's 3-1 victory over Atlanta -- entered Sunday's series finale batting .299 with a career-high 13 home runs, as well as 33 RBIs in 224 at-bats.
"What he's done, and the big hits and the home runs in a small sample is about as good as you get from that position," Cubs manager Dale Sveum said.
While Welington Castillo -- who is out for the remainder of the season with a partial meniscus tear in his right knee -- is expected to be the starting catcher next season, Sveum said that Navarro's ability to understand his role and be productive is a big asset.
"Welington's put himself in a position to catch more games next year, so the sample [for Navarro] will be a lot smaller, but you have to have depth in case something happens," Sveum said. "… Always the biggest thing with any role player is to always understand this is what it is, and you have to enjoy that as much as an everyday player enjoys being an everyday player."
Sveum also said that it's been helpful to have a switch-hitting backup catcher he could slot into the cleanup spot.
"Obviously [with Alfonso] Soriano gone, to have [Navarro] hit fourth, I think that gives the other manager a tough [time] to have to bring in a left-handed pitcher to face [Anthony] Rizzo or just be one time, as well has having a guy that can swing the bat from both sides of the plate. So it's been very valuable in the lineup to be able to hit him fourth."
Navarro has also mentored the younger Castillo.
"He's done a great job with Welly," Sveum said. "It's nice to have people that know that's their role and when they're called upon they do the best they can."
Manny Randhawa is an associate reporter for MLB.com. This story was not subject to the approval of Major League Baseball or its clubs.