Nationals do best to weather complications of rainout
Nationals do best to weather complications of rainout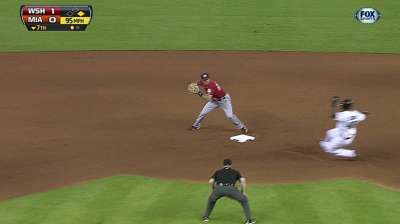 WASHINGTON -- The weather prevented the Nationals from playing baseball on Saturday night, so they played golf instead. Some players, including reliever Drew Storen, set up a little course in the home clubhouse at Nationals Park and squared off with their putters to pass the time during a nearly four-hour rain delay.
"It's really tough to read these greens," Storen joked on Sunday. "Lot of sneaky breaks here ... plus they just mowed it yesterday."
Golf was about all the Nationals could do, other than watch TV, eat and sleep. Their game against the Marlins finally was called shortly before 11 p.m. ET, setting up Sunday's split doubleheader. The situation was complicated, because Washington leaves town on Sunday night and heads for St. Louis, where it begins a series on Monday.
Storen, the Nats' player representative, said there was some discussion of making up the game on Thursday, a common off-day for the two teams. But that would have required the Nats to fly from St. Louis back to Washington, then on to Phoenix, where they finish their regular-season schedule against the D-backs.
"That was an option, too, which would've been nuts," Storen said. "Essentially, when it gets late in the year like this, you get handcuffed. It's nice that we have all these tickets sold, but that also complicates it, too. It's part of it. It's a good problem to have, we used to not have to worry about that."
While there was a long effort to wait out Saturday's rain storm, that decision was not in the team's hands.
Eventually, the Nats were left facing a Sunday that could go a long way toward deciding their fate. They enter the day 4 1/2 games behind the Reds for the second National League Wild Card berth. If Washington sweeps the doubleheader and Cincinnati loses at Pittsburgh, the Nats would go into the final six games of the season with a three-game deficit. On the other hand, two losses and a Reds win would put them six out and on the brink of elimination.
"Yeah it's a big day," Storen said. "I think we're very fortunate to have the roster size we do. We feel confident in the guys who've come up to help us out. It's all part of the adversity, and we're going to have to earn it. There's really nothing you can do. It was a rock and a hard place with the options we had."
Andrew Simon is a reporter for MLB.com. Tom Schad is an associate reporter for MLB.com. This story was not subject to the approval of Major League Baseball or its clubs.