Wright gets scheduled day off in Philadelphia
Wright gets scheduled day off in Philadelphia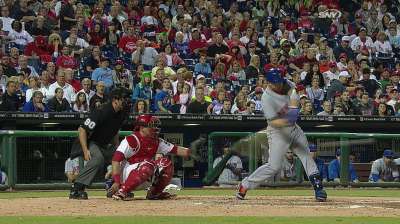 PHILADELPHIA -- As expected, David Wright was out of the lineup Sunday. Wilmer Flores was at third base for the Mets, as Wright got a day off after consecutive games -- his first two games back from a strained right hamstring.
Mets manager Terry Collins said the plan was for two games on and then a day off here, and possibly a game off during the series against the Reds in Cincinnati. But Wright said he was hopeful that he could play in all of the Mets' final four games at home.
"He's an unbelievable player," said Dillon Gee, who started and won Saturday thanks in part to Wright's homer. "As long as he can stay healthy, we're in very good shape."
Kevin Roberts is a contributor to MLB.com. This story was not subject to the approval of Major League Baseball or its clubs.