Rangers fall back in Wild Card race after walk-off loss
Rangers fall back in Wild Card race after walk-off loss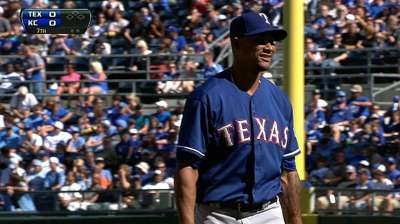 KANSAS CITY -- The Rangers are down to the final week of the season and they no longer have complete control of their fate. They are going to need some help from another team if they are going to reach the postseason for the fourth straight year.
The Rangers found themselves in that predicament when Justin Maxwell hit a two-out grand slam off of reliever Joakim Soria in the bottom of the 10th inning to give the Royals a 4-0 victory on Sunday afternoon at Kauffman Stadium.
Texas, falling short after a classic September pitching duel between Alexi Ogando and Royals starter James Shields, is now two games behind Tampa Bay and 1 1/2 games behind Cleveland in the Wild Card race. The Rangers, who are one game behind the Indians in the loss column, finish the season with a seven-game homestand that starts on Monday against the Astros at the Ballpark in Arlington.
"We put ourselves in this position," third baseman Adrian Beltre said. "It's not easy, but that's the way it is."
"They are all painful losses now," shortstop Elvis Andrus said. "It was a great game. Their guy and Ogando pitched amazingly, but whether we lose by one or lose by four, every loss is going to be painful from here on out.
"We go home and now is the best time to put things together and have an amazing homestand. We still have a chance to sneak into the Wild Card. It's going to be a great challenge, we'll see how much we want it."
Neal Cotts, who retired the final two hitters in the ninth, was the losing pitcher after giving up a leadoff double to Eric Hosmer in the 10th. Soria took over, intentionally walking Billy Butler and giving up an infield single to Salvador Perez to load the bases with no outs.
Soria almost got out of the jam. Mike Moustakas popped out and George Kottaras hit a grounder at second baseman Ian Kinsler, who got the force at home. That brought up Maxwell, who worked the count full and then crushed a fastball over the left-field wall.
"I felt good," Soria said. "I got the first two outs and had to face Maxwell. It was 3-2, I had to throw a strike. I can't give the umpire a chance to call a ball. I've got to throw a strike, hope he swings at it and hits it at somebody. He hit it well."
This is the seventh time in club history the Rangers have lost on a walk-off grand slam. The last time was in 1992, when Franklin Stubbs of the Brewers hit a slam off of Kenny Rogers in Milwaukee.
"I was just trying to hit the ball hard," Maxwell said. "The guys in front of me had great at-bats and in that situation it was kind of tough to see with the shadow there so I was trying to get ready early. I'd never faced Soria before, but I knew with the shadow there that the ball was going to jump on me."
The Royals had just two hits off Rangers pitchers going into the 10th. Ogando went seven innings on 77 pitches, and Tanner Scheppers and Cotts got them through the ninth. At that point, Rangers pitchers had retired 17 straight hitters before Hosmer's double leading off the 10th.
But the Rangers couldn't do anything offensively against Shields or relievers Greg Holland and Tim Collins. Texas had six hits on the afternoon, was 0-for-6 with runners in scoring position and had three runners thrown out on the basepaths.
Perez, the Royals' catcher, threw out two trying to steal. Andrus was thrown out trying to take third with one out in the first inning in an attempt to get the Rangers off to a quick lead.
"He always throws well against us so you have to take advantage of each opportunity," Andrus said. "That's what I was doing there. I took my chance, but that kid Perez is amazing. He throws everything right on the base."
Perez also threw out Leonys Martin trying to steal second in the fifth. The Rangers were able to steal off of Perez in the ninth after Alex Rios reached on a strikeout/wild pitch against Holland. With Beltre at the plate, he stole second on the first pitch, barely beating the throw from Perez.
But he took one gamble too many in trying to manufacture a run against the Royals' All-Star closer. Beltre hit a fly ball to left and Alex Gordon had to go backward to make the catch. But he was still on the grass and not near the warning track when Rios decided to take a chance on getting to third with one out. Gordon, who leads the American League in outfield assists, threw him out.
"I took a gamble on accuracy," Rios said. "I thought in that situation with Holland on the mound, I had to try it. He's very tough on hitters so I took a gamble on accuracy. If the throw is on either side, I'm safe with one out and it makes it a better situation for our hitters. He just made a perfect throw."
"Most of the time you're hoping they run on Gordy, that wasn't one of them," Royals manager Ned Yost said. "He made a spectacular throw. That's why he's a Gold Glover. He makes clutch plays when you need them most."
And now the Rangers are in an imperfect situation with one week to go in the season.
"We just have to play out the string," Rangers manager Ron Washington said. "We've got to start winning some ballgames. That's it."
T.R. Sullivan is a reporter for MLB.com. Read his blog, Postcards from Elysian Fields, and follow him on Twitter @Sullivan_Ranger. This story was not subject to the approval of Major League Baseball or its clubs.