Maxwell's walk-off slam helps Royals keep pace
Maxwell's walk-off slam helps Royals keep pace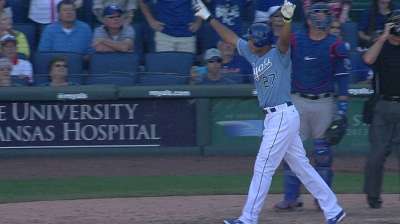 KANSAS CITY -- After a short debate about whether to pinch-hit for Justin Maxwell, Royals manager Ned Yost decided to stick with his gut and sent his right fielder out with instructions to "go out there and get it done."
That's just what Maxwell did.
With the bases loaded, two outs and a full count against him in the 10th inning, Maxwell hit a 421-foot grand slam into the left-field seats to give the Royals a 4-0 victory against the Rangers in front of 27,899 fans who made it out for the last home game of the regular season.
With the win, the Royals stayed 3 1/2 games behind Cleveland for the second spot in the American League Wild Card race. They also secured a winning season for the first time since 2003.
"To be able to do something positive like that and have your teammates maul you and have the fans here really embrace you, it's a blast," Maxwell said. "You can't beat it."
"Maul" would be an accurate description after four pies to the face, four Gatorade baths, a punch to the chest and a surprise on-field visit by 28-year-old Independence native Jimmy Faseler, who has been lovingly termed "Rally Gut" for his dancing on the JumboTron during the latest homestand.
After nine scoreless frames, thanks in part to a dominant eight-inning performance by Royals starter James Shields, Eric Hosmer led off with a double that went skipping down the left-field line. That brought on former Royals closer Joakim Soria for his first appearance as an opponent at Kauffman Stadium.
Soria intentionally walked Billy Butler and gave up a single to Salvador Perez to load the bases before catching a couple breaks. Mike Moustakas popped out to third baseman Adrian Beltre in foul territory and pinch-hitter George Kottaras grounded into a forceout, which caught Hosmer at home. Then came Maxwell for the decisive at-bat.
"I felt good. I got the first two outs and had to face Maxwell," Soria said. "It was 3-2; I had to throw a strike. I can't give the umpire a chance to call a ball. I've got to throw a strike, hope he swings at it and hits it at somebody. He hit it well."
Entering the game, Maxwell was hitting .400 (14-for-35) against right-handers since joining the Royals. He went 2-for-4 against righties on Sunday with a single and the grand slam. Since the trade on July 31, he's batting .293 (22-for-75) with 17 RBIs.
"I was just trying to hit the ball hard," Maxwell said. "The guys in front of me had great at-bats and in that situation it was kind of tough to see with the shadow there, so I was trying to get ready early. I'd never faced Soria before, but I knew with the shadow there that the ball was going to jump on me."
That wasn't Maxwell's first career walk-off grand slam. The other came on Sept. 30, 2009, which was the also Nationals' last home game of the season.
Shields notched his AL-leading 26th quality start of the season despite getting hit in the elbow with a line drive off David Murphy's bat in the third inning.
"I had a hard time feeling the baseball really, the whole rest of the game, but it's just kind of one of those games and one of those moments that I wasn't coming out," Shields said. "I told Skip when I was out there it wasn't hurting. It wasn't necessarily feeling good, but I felt fine. It was kind of tightening up between innings, but Nick [Kenney], our trainer, did a great job between innings of getting me prepped and keeping me loose."
Shields finished with six hits, one walk and two strikeouts. It was his fifth start of the season with at least seven scoreless innings.
"Once the stinging went away, he was nails," Yost said. "He really lived up to his name today, 'Big Game James,' because this is the biggest game in a long, long time for this organization to come into the final [home] game of the season and have it mean something. He stepped up, as did all of our pitchers on this huge day."
Greg Holland and Tim Collins each added a scoreless inning to the effort.
Working with an 80-pitch limit in his second start back from the disabled list with right shoulder inflammation, Rangers right-hander Alexi Ogando held the Royals to just two hits in seven innings. After a third inning walk he retired the next 11 batters he faced.
The Rangers had a shot to win it in the ninth when leadoff man Alex Rios reached first on a wild pitch after he struck out. He stole second base, but Beltre flied into a double play when left fielder Alex Gordon, a two-time AL Gold Glove Award winner, caught it and threw Rios out at third base. It was Gordon's 16th outfield assist of the season.
"I thought in that situation with Holland on the mound, I had to try it. He's very tough on hitters so I took a gamble on accuracy," Rios said. "If the throw is on either side, I'm safe with one out and it makes it a better situation for our hitters. He just made a perfect throw."
The Royals only have seven more games to make up ground in the Wild Card race after taking the series from the Rangers, but Shields said this kind of win makes it a lot easier to get on the plane to Seattle.
"We're putting everything we've got into it right now and we're playing some good baseball," Shields said. "Only the baseball gods are going to figure that one out, but we are going to play our hearts out every single night."
Kathleen Gier is an associate reporter for MLB.com. This story was not subject to the approval of Major League Baseball or its clubs.