Murphy matches career high with 12th homer
Murphy matches career high with 12th homer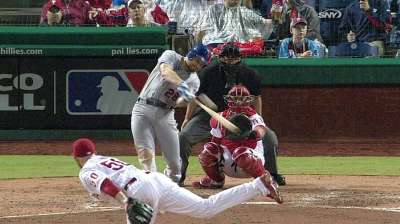 PHILADELPHIA -- Daniel Murphy's home run Saturday against the Phillies was his 12th of the season, tying his career high (he also hit 12 in 2009).
He was in his usual third spot in the Mets' order Sunday, and this season is hitting .321 in day games. Murphy is third in the National League in hits (178) and eighth in runs scored (90). He's hitting .355 since Aug. 28, with 17 runs scored, 14 RBIs and 10 doubles in 24 games.
"He can hit," Mets manager Terry Collins said. "He's got a game plan. He's not going to go up there looking for a base on balls, but he can put the bat on the ball."
Murphy is one of four Major Leaguers with at least 35 doubles, 10 homers and 20 stolen bases, joining Mike Trout, Hunter Pence and Andrew McCutchen.
Kevin Roberts is a contributor to MLB.com. This story was not subject to the approval of Major League Baseball or its clubs.