Astros unable to solve Indians in series finale
Astros unable to solve Indians in series finale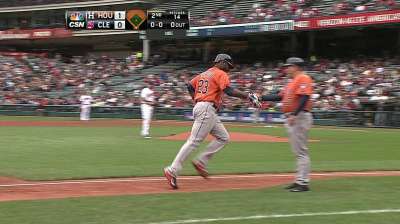 CLEVELAND -- After the Indians polished off a four-game sweep of the Astros -- a win that moved them a step closer to winning a playoff berth in the American League -- manager Bo Porter pulled aside outfielder Brandon Barnes and second baseman Jose Altuve and made sure they took notice.
The first-year skipper wanted two of the players who could be key pieces of the Astros' future to make sure they soaked in how focused and driven the Indians played against them for four days, capped by a 9-2 win Sunday afternoon at Progressive Field.
"I told them before the series started," Porter said, "and we talked after the last out was made. I said, 'Do you guys see what I'm talking about when I say the energy and the focus that teams that know that they're fighting for their playoff life? Did you see how they played these four games? That's what we got to get.'"
While the Indians hold a lead of 1 1/2 games over the Rangers for the second Wild Card spot, the Astros are limping into the final week of the regular season, looking like a team destined to set the team record for losses for the third consecutive season.
They lost 106 in 2011, dropped 107 games last year and are sitting at 51-105 with six games remaining. Even more ominous for the Astros? They open a three-game series Monday in Arlington against the Rangers, who are 14-2 against Houston this year.
"We're going to fight all the way until the end," Porter said. "The number of losses and whether it's consecutive losses, that's not going to prevent this group or us as a staff coming in here every day and putting up our best fight."
Barnes said that if he were on the team next year, he wanted to hold the Astros to a higher standard and take more of a leadership role.
"I'm one of the young guys, but I feel like I can be a leader and kind of take us to where we need to be," he said. "I want to eventually play for a championship and make the playoffs, and that's something we all want to do. We just have to start from Spring Training next year, and I think the team is going to be good next year. We just have to hold ourselves to high standards."
Astros starter Erik Bedard (4-12) was rocked for six runs and eight hits in five-plus innings in his second-to-last start. He lauded the Indians for their focus, as well.
"They're trying to go to the playoffs, and that's what you've got to do when you're battling to get there, and you have to battle every at-bat, and they did," Bedard said.
The Astros have been outscored by 47-14 during their nine-game losing streak.
"Winning is fun, and when you lose it's not fun at all," Barnes said. "It weighs on you, but at the same time we have to go out there and do our job and not make mistakes. We've played some tough games; we've played some tight games, but at the same time, we've got to find a way to win those games."
The Astros took a 1-0 lead in the second on Chris Carter's 29th homer, but they managed just one run in the fourth despite loading the bases with no outs. Trevor Crowe hit into a double play to score Marc Krauss (2-for-4) to make it 2-0, and L.J. Hoes struck out.
"In that situation, you're hoping to get two or three runs, and you end up only getting one run out of it," Porter said.
The Indians scored three times in the fourth to take a 3-2 lead. Carlos Santana had an RBI double and scored the tying run on a single by Michael Brantley. Mike Aviles put the Indians ahead with a single that scored Asdrubal Cabrera.
Bedard allowed the first three batters to reach in the sixth inning, and they all scored. Brantley had an RBI single to make it 4-2, and Michael Bourn greeted reliever Philip Humber with a two-run triple to right field to put the Indians in control, 6-2. Nick Swisher scored Bourn on a sacrifice fly.
"They have that finish-line in sight," Krauss said. "They can feel it; they can see themselves. They've been playing good baseball all year long, especially down the stretch. They're right in the thick of things, and they know they want to win out and control their own destiny. They don't want to bank on the other guys losing. They pitched pretty well against us all weekend. They're pitching like it's the playoffs."
The Indians became the first team since the 1961 Yankees to sweep six four-game series in one season. They are 50-18 against teams with losing records, so they are beating the teams they are supposed to beat.
"We spread it out, which was good," Indians manager Terry Francona said. "We won a couple close ones. We just keep playing. Today, Bedard kind of frustrated us for a while. Brantley had some really good at-bats. Santana hit the ball in the gap. And then once we got it tied, because you're at home, you feel better -- doesn't mean the game's over, but you feel better. And then we did some really good things after that."
Brian McTaggart is a reporter for MLB.com and writes an MLBlog, Tag's Lines. Follow @brianmctaggart on Twitter. This story was not subject to the approval of Major League Baseball or its clubs.