Redmond hopes history repeats itself
Redmond hopes history repeats itself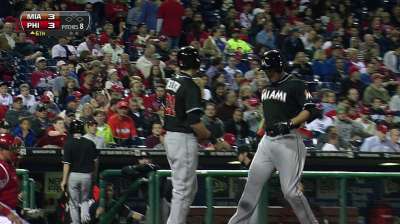 WASHINGTON -- At some point, Marlins manager Mike Redmond hopes all the suffering is worth it.
As a player, Redmond experienced the lows of being on a Marlins team that lost 108 games, only to make steady strides until they won the World Series in 2003.
The 1998 Marlins finished 54-108, and that team featured players like Derrek Lee and Luis Castillo. A year later, in 1999, Mike Lowell joined a squad that went 64-98.
"There are a lot of guys who played a long time in the big leagues off that [1998] team," said Redmond, a backup catcher at the time. "All the guys who were on that team who I played with, they said they were better off because they went through that."
The Marlins are winding down the first of what they hope is a three-year swing back to contention.
The 2013 team needs to increase its offensive productivity, but it has a solid nucleus to build around -- including Giancarlo Stanton, Jose Fernandez, Adeiny Hechavarria, Christian Yelich and some solid pitching.
"Nobody likes to lose," Redmond said. "At the same time, you develop a pride within your organization and with your teammates -- when you struggle and then when you start to come out of it."
The Red Sox are seeing that this season. Few remember, but a year ago, the Marlins and Boston had identical 69-93 records. Boston, obviously, has more resources than the Marlins, but it dealt away high-salaried players like Carl Crawford, Adrian Gonzalez and Josh Beckett. It redirected, and rose to the American League East title.
A year ago, the Indians were 68-94, and now they are positioned to win an AL Wild Card spot.
The 2011 A's finished 74-88, and they are headed for their second straight AL West title. Also that season, the Nationals finished 69-93.
The Marlins clearly need more pieces, and they aren't ready to spend top dollar for them. So they will have to be shrewd -- either on the International market or by adding modestly priced players though free agency or trades.
Redmond understands the reward takes time. But it can be done. Five years after the Marlins lost 108, they were celebrating the 2003 World Series championship.
"When you see guys who start as rookies together, and then you start to build something up, and you start to win ballgames and become more competitive, there is a lot of satisfaction," Redmond said. "Hopefully, that becomes a reality for us."
Joe Frisaro is a reporter for MLB.com. He writes a blog, called The Fish Pond. Follow him on Twitter Share This