Tribe tops Astros to stay Wild for another day
Tribe tops Astros to stay Wild for another day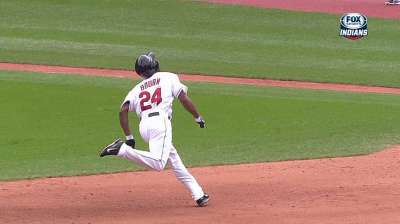 CLEVELAND -- With two on in the sixth inning, Michael Bourn pulled a line drive into the right-field corner and sprinted around the bases, making it all the way to third for a standup triple. Moments later, Nick Swisher lifted a fly ball into left field, and after it was caught Bourn raced toward home plate for another Indians run.
Like Bourn darting around the diamond, the Indians are pushing full-steam ahead. Their destination is the postseason, and as they continue to win and win, the prize they seek gets closer and closer.
With Sunday's sweep-clinching 9-2 win over the Astros, the Indians have won nine of their last 11 games and 14 of the past 19. They trail Tampa Bay by a half-game for the first American League Wild Card position and hold a lead of 1 1/2 games for the second spot over Texas, which lost Sunday on a walk-off grand slam in extra innings against Kansas City.
"We're in a fun spot," Tribe manager Terry Francona said. "We have to keep winning. It's a fun way to come to the ballpark. We're playing pretty good baseball, and we need to."
After Sunday's win -- held in front of a Progressive Field crowd of 26,168, the largest this season on a Sunday -- the Indians have an off-day Monday before concluding the regular season with two home games against the White Sox and four road games in Minnesota. Both of those teams sport sub-.500 records. Against such clubs, the Tribe is a Major League-best 50-18.
"We've battled so hard, and we've got ourselves into an amazing spot," Swisher said. "Guys are going to be ready to go every single day, and we'll try to finish this thing out right."
Cleveland's latest win looked a little unlikely at first. Houston lefty Erik Bedard stymied the Tribe over the game's first three innings, but the Indians got to him in the fourth. With the club trailing by two runs, Carlos Santana ripped an RBI double to center field, and Michael Brantley and Mike Aviles each notched two-out, run-scoring singles.
Brantley added another RBI single off Bedard in the sixth. The starter then was replaced by Phil Humber, who yielded the triple to Bourn and the sacrifice fly to Swisher. In five-plus innings, Bedard was charged with eight hits and six runs, with two walks and eight strikeouts.
An inning later, Aviles drove in another run with a two-out single to left off Humber. The Tribe got its final run in the eighth, when Santana bashed a two-out homer -- his 19th -- off Jorge De Leon.
"We're in a great groove," said Brantley, who is batting .338 (24-for-71) over his last 20 games. "The offense is kind of rolling a little bit. We're having some contagious hitting, which is fun. And our starting pitchers are keeping us in every game. As long as we do that, we'll continue to win baseball games."
The starter Sunday, Corey Kluber, gave up a couple of runs to put Cleveland behind early, but the offense more than made up for it.
Chris Carter crushed Kluber's first pitch of the second inning over the left-field fence for his 29th long ball of the season. Kluber loaded the bases to start the top of the fourth, but he induced a run-scoring double-play grounder from Trevor Crowe and struck out L.J. Hoes.
"I don't know if I feel quite as good as I did before," said Kluber, who has made four starts since missing a month because of a right middle finger sprain. "I felt better today than I had the last couple times out."
Over 5 1/3 innings, Kluber surrendered six hits and two runs, with a walk and six strikeouts. He threw 81 pitches, 52 for strikes.
"I still think he's not in midseason form as far as his command," Francona said. "But he still competes. You saw what he gave us. I just think he's still kind of clawing his way back."
Thanks to the Indians, Houston's season-long losing streak reached nine games. After Sunday's finale, Astros manager Bo Porter went out of his way to make sure outfielder Brandon Barnes and second baseman Jose Altuve paid attention to how Cleveland went about its business in sweeping the series.
"He pulled us aside and talked about how locked in they were the whole series," Barnes said. "They're playing for something right now, and it's something special to be able to play for something. He just wanted to let us know that we're going to be there one day, and when that times comes that's how locked in we have to be and to appreciate the momentum. It's just being prepared for that moment."
Sunday's win sealed Cleveland's sixth four-game sweep of the season. The only other Indians team to accomplish that feat was the 1954 club, which made it to the World Series. The last team in baseball to sweep six four-game sets in one year was the '61 Yankees, who won the World Series.
The Indians are in good company. With a week left in the regular season, they are in a good spot, too.
"We're playing good baseball right now," Kluber said. "It's a good time to be getting hot."
Mark Emery is an associate reporter for MLB.com. This story was not subject to the approval of Major League Baseball or its clubs.