Cashner's gem doesn't slow down Dodgers
Cashner's gem doesn't slow down Dodgers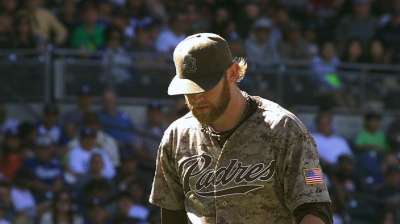 SAN DIEGO -- At some point on Monday, Padres manager Bud Black will meet with pitcher Andrew Cashner to, in all likelihood, reiterate to him that his start Sunday against the Dodgers was his last of the season.
Will Cashner lobby for one more?
"I'd love to, but I think that decision has been made," Cashner said.
The way that things have gone for him, Cashner would just as soon keep pitching, end of the season be damned, as he displayed more of the same dominant stuff Sunday that he's shown in a blissful second-half run, one that, for him at least, ended with a 1-0 loss to the Dodgers at Petco Park.
Cashner (10-9) allowed an unearned run in the seventh inning, which was the difference as the Dodgers took two of three games from the Padres, this one before a crowd of 32,988.
So is he done?
"More than likely, yes," Black said.
If that's the case, Cashner finishes the season with a 2.14 ERA in the second half, including a 0.80 ERA over his last six starts. Against the Dodgers Sunday, Cashner allowed four hits with no walks while striking out seven.
"It was great," said Padres catcher Rene Rivera. "They have a tough, tough lineup. He battled them for seven innings. He looked like he wanted to keep going."
The Padres have monitored Cashner's workload all season, as he threw a combined 69 2/3 innings a year ago between the big leagues and Triple-A Tucson, where he returned midseason to get stretched out as a starter.
This season, Cashner has thrown 175 innings, a total Black doesn't want to increase. Cashner's spot will come again on Saturday against the Giants, as the team is using a six-man rotation.
At this point, Black doesn't need to see any more of Cashner to know what he has.
"He pitched outstanding," Black said. "He's come a long ways. It's been great to see the development. ... He was making pitches with a lot of conviction. He's doing a lot of things fundamentally sound on the mound."
Cashner really only made one mistake on Sunday, hanging a breaking ball to Michael Young with one on in the seventh inning. Young's fly ball to right field sailed over the head of Will Venable, who had trouble fielding the ball, allowing Adrian Gonzalez scored from first base.
Young was credited with a double and Venable was given an error. That was the extent of the scoring for both sides.
"The guy today, for us, we put him in the [Matt] Harvey, [Jose] Fernandez category. He's got good stuff. He's not a surprise anymore. Quality stuff. He's tough," said Dodgers manager Don Mattingly.
The Padres managed to win one of the three games of this series even though they went 0-for-22 with runners in scoring position, including 0-for-5 against Dodgers pitcher Zack Greinke and three relievers, including closer Kenley Jansen, who struck out the side in the ninth for his 27th save.
"Not good," Black said.
Greinke allowed two hits over five innings, walking one and striking out three before leaving the game. The Dodgers, who clinched the National League West title on Thursday, opted to remove Greinke after 72 pitches to get him a little rest before the postseason.
"It was his normal game, you saw the good fastball command, he changes speeds and threw a wide range of pitches. He's got movement. He's got location and he changes speeds," Black said.
Los Angeles reliever J.P. Howell (4-1) got the victory with a scoreless sixth inning.
The Padres put runners on the corners with one out in the seventh inning but came up empty against Dodgers reliever Chris Withrow, and Chase Headley reached on a Gonzalez error with one out in the eighth, but Withrow turned the Padres away again.
But the biggest development Sunday, and on a larger scale, was another strong start by Cashner, who figures to anchor the rotation in 2014.
"I'm very happy with where the season started to where I'm at now," he said. "The command of my fastball has been the biggest thing. And the whole second half, I've had my slider."
Corey Brock is a reporter for MLB.com. Keep track of @FollowThePadres on Twitter. This story was not subject to the approval of Major League Baseball or its clubs.