Second-half strength shows Sale's progress as pitcher
Second-half strength shows Sale's progress as pitcher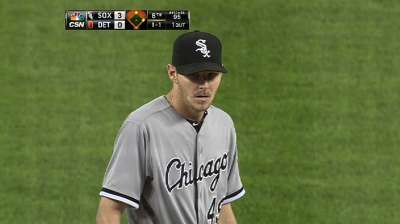 DETROIT -- While Chris Sale has been dominant for the past two seasons, he wanted to finish this year stronger than he showed last September.
Sale posted a 4.03 ERA and 1.34 WHIP over 89 1/3 innings in the second half last year, and he's improved to a 3.19 ERA and 1.15 WHIP this season in 93 innings.
"I think he was able to manage it better this year," White Sox manager Robin Ventura said. "Coming into the season, I think he had a better idea of what it took to get through a season, get deep into games and kind of stay stronger throughout the year, and it showed."
Sale, 24, set a franchise record for left-handers with 221 strikeouts in a single season on Saturday night. He only trails Ed Walsh, who recorded four seasons with at least 254 strikeouts before 1912, though Walsh pitched at least 368 innings in each season compared to Sale's 209 innings this year.
"He's good. You can say all the numbers you want and match them up. I think, for this day in age, what Chris has done this early just shows he's up there with the elite pitchers in the game," Ventura said. "Those are all nice things to have, but regardless of what the numbers are, you like him taking the mound every five days."
After Saturday's game, Sale held up one of the game balls to commemorate the strikeout record and joked that he was finally able to get out Tigers designated hitter Victor Martinez, who is batting .545 with a 1.383 OPS against him.
"Like I always say, I'd rather be lucky than good," Martinez said. "Sale is a tough man to face. For some reason, I've been able to put good swings on him and find holes. Honestly, those are not fun at-bats, trust me."
They haven't been fun at-bats for most Tigers hitters, as Sale went 3-1 with a 1.83 ERA in five starts against Detroit this season.
"He's able to throw a lot of those pitches for strikes," said Tigers center fielder Austin Jackson, who is 2-for-30 in his career against Sale. "That slider, it seems like he can throw that for a strike when he wants. He'll throw a really good slider for a strike first pitch, and it's like, 'That's the get-me-over slider right there? That looked like a two-strike one.' He's legit. He's good."
Bobby Nightengale is an associate reporter for MLB.com. This story was not subject to the approval of Major League Baseball or its clubs.