HRs pave way for Doubront as Sox pace AL
HRs pave way for Doubront as Sox pace AL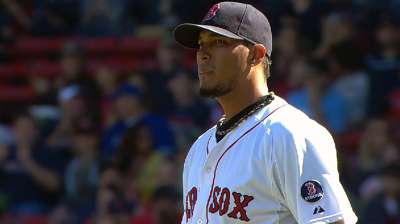 BOSTON -- The Red Sox will probably only need four starting pitchers in the playoffs, and they probably know who those four starting pitchers are.
Felix Doubront, who could be left on the outside looking in, might have been making his last start of 2013 on Sunday afternoon against the Blue Jays. It was his first start in 16 days, and it was a good one.
Well-rested, Doubront kept the Blue Jays off-balance as he worked seven innings and allowed two runs on four hits as the Red Sox cruised to a 5-2 win in their final regular-season game at Fenway Park this season.
"It helped," Dourbront said of the extended layoff. "The [velocity] went up. I feel strong. I was impressed. Sometimes when you get that kind of rest, a lot of days, you try to do too much. I was trying just to throw a strike, and that helped."
At 95-62, Boston has the best record in the American League, and they are two up on the A's in the win column for home-field advantage in the postseason after Oakland beat the Twins on Sunday. The Red Sox finished with a 53-28 record at home.
And while Doubront will retreat to the bullpen next weekend for the team's final two games and his status on the postseason roster remains uncertain, the Red Sox at least know they have a reliable starting pitcher waiting on call.
"To me, the only thing that limits him currently, is just the stamina and the endurance over the course of a full season," manager John Farrell said. "Like I said, he's an extremely talented young guy."
The 25-year-old worked his fifth start of the season in which he lasted at least seven innings. He did it just twice in 2012.
In his second full season in the Majors, Doubront's ERA dropped from 4.86 to 4.08. And he cut his home run total almost in half. After allowing 24 homers in 161 innings last year, he has allowed just 13 in 161 innings this year.
There were healthy signs of progress for a pitcher who won't be eligible for arbitration until 2015 and free agency in '18.
"You view Felix as a guy -- there's more in there," Farrell said. "He's capable of more. It comes down more to the physical side of it."
Doubront ran into trouble just once on Sunday, when he allowed a one-out walk followed by back-to-back hits to drive in a run in the second inning.
He was spotted a 4-1 lead in the second inning, when Daniel Nava, Stephen Drew and Ryan Lavarnway smacked a few singles and Jackie Bradley Jr. launched a hanging knuckleball from R.A. Dickey into the right-field bleachers for a three-run homer.
Bradley is 5-for-10 with a double and a homer in his last three games playing for the injured Jacoby Ellsbury, who could return as soon as Wednesday.
"I mean, I'm learning," Bradley said. "That's the main thing. Even amidst the learning curve, I feel like I'm getting better, whether that's mentally or physically."
David Ortiz was 2-for-4 with his 29th homer of the season.
Jason Mastrodonato is a reporter for MLB.com. Follow him on Twitter @jmastrodonato. This story was not subject to the approval of Major League Baseball or its clubs.