Miggy out of lineup because of groin soreness
Miggy out of lineup because of groin soreness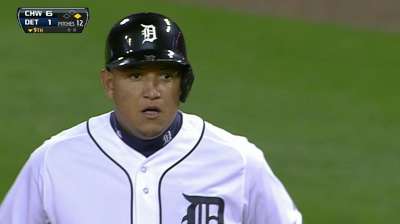 DETROIT -- Miguel Cabrera hadn't arrived at Comerica Park by the time Tigers manager Jim Leyland made out his lineup early Sunday morning. It didn't matter.
Hours after Cabrera left Saturday night's game in the 10th inning with recurring soreness in his groin, Leyland wasn't taking any chances. He rested Cabrera for Sunday's series finale against the White Sox and started Don Kelly at third base.
Cabrera said he felt better than he did Saturday, and Leyland was preparing to use him as a pinch-hitter in the ninth inning if the Tigers rallied. They never got to that point in the 6-3 loss, so Cabrera ended up with a complete day off.
"He was much better today," Leyland said. "No activity today, that should help, but it's one of those things that you can play the game and be OK and then have to give a little extra or something and that bothers him. We've got to get some guys healthy."
Despite the limitations, Cabrera suggested he isn't far off. He estimated Sunday that he's at 80-90 percent strength.
"I feel better today," he said. "We'll see tomorrow."
Leyland doesn't know yet how he'll handle Cabrera this coming week, and it's not just the uncertainty of Cabrera's injury playing into it. The sooner the Tigers clinch, the sooner Leyland can think about giving Cabrera days off, but Leyland notes a risk to that.
"You're going to have four days off after the [regular] season, before the playoffs start," Leyland said. "And all of a sudden, if you rest him three or four days now, that's seven out of eight days you don't play your best hitter going into the playoffs, without seeing a pitcher. That's not good either.
"That's a Catch-22. Common sense tells you to let him rest, but if you rest him or three or four days and then you have four days off before you start, you're talking about him being rested for a week without seeing pitchers."
The decision might well come down to how much the Tigers medical staff believes Cabrera's injury will heal with days off. The report all summer has been that he cannot worsen it by playing, but the recurring occasions in which he has had to sit suggest it hasn't gotten appreciably better.
He's somewhat a victim of his own success in that regard.
"It's a Catch-22," Leyland repeated, "because you want him out there on base, but when he's out there four times, there's a chance he's going to get sore. He gets three hits and a walk or something, he's so good."
The Tigers have already said Cabrera's individual feats won't play into the decision. He entered Sunday batting .349 with a safe 22-point lead in the American League batting race over Mike Trout, who would need a 20-for-20 tear to get to .350.
Chris Davis' seven-homer lead in the AL standings looks to be too much for Cabrera to make up, considering he has one home run in September. The one close race he has among Triple Crown categories is in RBIs, where he leads Davis by two.
Jason Beck is a reporter for MLB.com. Read Beck's Blog and follow him on Twitter @beckjason. This story was not subject to the approval of Major League Baseball or its clubs.