Dickey racks up 11 K's in CG, but homers hurt
Dickey racks up 11 K's in CG, but homers hurt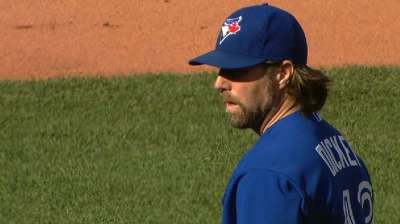 BOSTON -- R.A. Dickey had one of his best knuckleballs of the year. But with the wind blowing out at Fenway Park, all it took was a couple of mistakes to have yet another outing overshadowed by the home run.
Toronto's No. 1 starter has experienced difficulty keeping the ball in the park during his first season with the Blue Jays. The vast majority of those problems have come at home, but this time, they carried over to the road.
Dickey went the distance for the third time this season and struck out a season-high 11 batters, but he also allowed a pair of costly home runs in the Blue Jays' 5-2 loss to the Red Sox on Sunday afternoon.
"He gives up fly balls, that's part of being a knuckleballer, but he threw a tremendous game if you take away the two home runs," Blue Jays manager John Gibbons said. "The problem is you can't take away the two home runs. They have a good team over there."
Boston's Jackie Bradley Jr. and David Ortiz delivered the biggest blows as Dickey allowed multiple home runs in a game for the eighth time this season. He has now surrendered 33 homers on the year, which is the second most in franchise history.
Woody Williams had the highest total with 36 in 1998, while left-hander Jerry Garvin had 33 during the 1977 campaign. Dickey currently ranks second in the Major Leagues this season with that total as he trails Oakland's A.J. Griffin by two.
Most of the issues have come at the homer-friendly Rogers Centre, where Dickey has surrendered 21 this year compared to just 12 on the road. But that didn't make Sunday's loss any easier to take, especially considering Dickey said he felt as good as he has all season.
"I threw maybe two or three that I really regret and two of them got hit out," Dickey said. "It was a really bizarre way to lose a baseball game. I had a good knuckleball, I've had a good knuckleball for quite some time and I expected better from what I felt and what I saw the ball doing."
The problems began in the second inning, when Dickey surrendered singles to three of the first four batters he faced. That led to one run, and three more came around to score when Bradley sent a 1-0 offering over the wall in right field.
Dickey then managed to settle in until Ortiz led off the sixth with another home run to right. Ortiz's 29th of the season came on a first-pitch knuckleball and provided the Red Sox with some extra breathing room that they wouldn't end up needing.
The veteran right-hander was charged with all five runs on six hits while walking just one. Dickey's record dropped to 13-13, and with just one start remaining on the year, he no longer has an opportunity to reach at least 15 wins for the second consecutive season.
"When he hit it, I was like, 'OK I got out of the inning -- let's get on to the next one,'" Dickey said of Bradley Jr.'s three-run shot. "Then after the ball carried out, I looked up from behind home plate and I saw the flag. I had not paid attention to that until that moment and I could hear it, it was blowing out so hard to right. If the ball got up high today, it was going."
The Blue Jays opened the scoring in the top of the second inning as Mark DeRosa and Ryan Goins both reached base to open the inning. Kevin Pillar followed with an RBI single. Pillar also struck again in the fifth inning with a solo shot just over the Green Monster for his second career homer.
Pillar's 2-for-3 day at the plate was the lone bright spot for the Blue Jays' offense as left-hander Felix Doubront was relatively flawless in seven innings for Boston. Doubront allowed just the two runs on four hits while striking out two in his 11th win of the season.
"I was feeling good, my arm feels good -- rest -- and I was impressed, because I was feeling good with my pitches," Doubront said.
"Sometimes I wanted to throw that changeup hard, and it's a mistake," he said. "One changeup, I tried to take it off a little bit and I hung it. That was the homer."
With that, Toronto began its final road trip of the year on a losing note. The club dropped its series to Boston, 2-1, and will head to Chicago on Monday for a makeup game. The Blue Jays finish the trip with three games against the Orioles from Tuesday through Thursday.
Gregor Chisholm is a reporter for MLB.com. Read his blog, North of the Border, and follow him on Twitter @gregorMLB. This story was not subject to the approval of Major League Baseball or its clubs.