Unable to shed Reds, Bucs fall into Wild Card tie
Unable to shed Reds, Bucs fall into Wild Card tie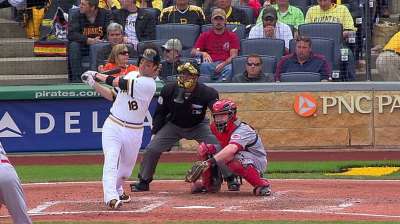 PITTSBURGH -- Sorry, Yogi. This game was over long before it was over. Soon after it began, in fact, which gave 38,699 fans attending the Pirates' final home game of the season a lot of time to ponder the unknown.
When would the Pirates, after Sunday's 11-3 loss to the Reds, be making their next PNC Park appearance? And when would the home folks next get to see Andrew McCutchen -- who was afforded an honorary sendoff by Clint Hurdle, jogging in from center field after having taken the field in the top of the ninth and having his manager welcome him back to the dugout.
In nine days, to host the Oct. 1 National League Wild Card game?
On Oct. 3, to host Game 1 of one NL Division Series? On Oct. 6, to host Game 3 of the other NL Division Series?
Or, if their playoff run dead-ends before or right after the regular-season wire, on March 31, to host the Chicago Cubs in the 2014 season opener?
"I don't know if I've ever been in that situation before," Hurdle said as his club hit the road to Chicago, but ultimate destination unknown. "We plan for a week, but could be gone for longer than that. We're not gonna miss any game we're supposed to play, I promise you that."
So many possibilities, and the Bucs certainly did not improve their chances for the earliest scenario of being home for a Wild Card play-in game with Sunday's outcome, doomed by Jeff Locke's ineffectiveness.
The defeat -- setting the Bucs' final home ledger at 50-31 -- again left the Pirates and Reds in an NL Wild Card tie. Six games remain to decide which gets to host that Wild Card game, lest one of them leapfrogs the Cardinals for the NL Central title. The Pirates' magic number to clinch a playoff spot is at two.
As last-day occasions go, this was more wake than party. Locke took the mound for what already was likely his final start of the year, and any hopes of leaving a good last impression were quickly, and loudly, dashed.
Between his first (leadoff man Billy Hamilton, on a grounder) and second (Zack Cozart groundout) outs, Locke allowed five runs, three of them on a Jay Bruce double. Two more on Todd Frazier's home run.
"Yeah, it happened very fast," Locke said. "A hit, a few walks, a big hit by Bruce, then the homer by Frazier. As a starting pitcher, you try to avoid the big inning as much as you can. Unfortunately, the big inning came first. A bases-loaded hit into the gap [left-center, by the lefty-hitting Bruce] is going to hurt."
"Too many mistakes. Walking three and four [Joey Votto and Brandon Phillips], and next two batters, balls just left in the middle of the plate barreled," Hurdle assessed curtly.
The manager was even more curt when asked about Locke's possible postseason role: "We'll start those discussions tomorrow."
Locke was still addressing Sunday's first inning when he said, "Before you know it, I was done, and that was my last inning," but the young lefty could also have been talking about his 2013.
That first inning sealed Locke's season and PNC Park's decision over him. With Thursday's off-day allowing the Pirates to realign their rotation for the final-weekend series in Cincinnati, Locke was not going to get another regular-season start, and he is a long-shot for a roster spot for postseason play that requires only four starters.
The 2013 NL All-Star thus ends his year with a 10-7 record and 3.52 ERA. Those numbers include a 2-5 record and 6.15 ERA after the All-Star break, and an ERA of 4.88 for 16 home starts.
In the second, with Jeanmar Gomez on the mound, the Reds stretched out to 7-0, on Chris Heisey's RBI double and Brandon Phillips' sacrifice fly.
"Any time you can jump on a team with five runs in the first inning and two more the next inning, that's definitely going to get you going in the right direction," said Heisey. "It kind of stalled out a little bit, but luckily Bronson [Arroyo] pitched his way out of some tough innings and limited the damage so we could maintain that lead."
The Bucs' one chance to get back in the game occurred in the fifth inning, which Travis Snider led off with a pinch-homer that trimmed Cincinnati's lead to 7-2 -- with Neil Walker having gotten Pittsburgh on the board with a leadoff homer in the third. When Arroyo followed by hitting Jose Tabata with a pitch and Walker doubled him to third, the Pirates were set with the heart of their order coming up.
But McCutchen's pop up, Justin Morneau's sacrifice fly and Marlon Byrd's fly out quickly defused the potential explosion.
Walker takes a smoldering bat on the road. Sunday's two hits made him 7-for-15 in the last four games, a promising catapult for three games in Wrigley Field, where he has five homers and 19 RBIs in 23 career games.
"I'm focused," Walker said, "and staying aggressive on fastballs. It's been working."
Cincinnati aggravated the situation with three runs in the eighth off Vin Mazzaro, a two-out rally triggered by Hamilton's leg-double to center.
In retrospect, on a day Cincinnati peppered them with 16 hits, the only one of Pittsburgh's pitchers to earn the crowd's salute was Stolmy Pimentel. Not so much for his two hitless innings, but for the sixth-inning pitch that sailed behind Phillips.
Pimentel's pitch elicited cheers from the stands and warnings to both benches from plate umpire Dan Iassogna.
"It didn't look accidental," Cincinnati manager Dusty Baker said of Pimentel's miss, which came the half-inning after Arroyo had not missed on Tabata. "The pitch to Brandon looked intentional, but we got some life out of it and scored some more runs after that."
Tom Singer is a reporter for MLB.com and writes an MLBlog Change for a Nickel. He can also be found on Twitter @Tom_Singer. This story was not subject to the approval of Major League Baseball or its clubs.