White Sox rebound to ruin Tigers' home finale
White Sox rebound to ruin Tigers' home finale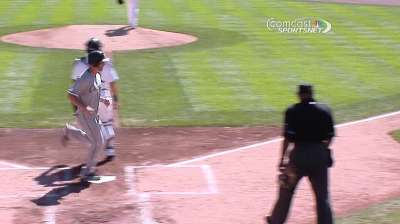 DETROIT -- White Sox rookie Erik Johnson outdueled the American League leader in ERA, Anibal Sanchez, and Avisail Garcia got revenge on his former team in a 6-3 win in the series finale on Sunday afternoon at Comerica Park.
Johnson only gave up two runs on nine hits in 6 2/3 innings, while Garcia, fellow rookie Conor Gillaspie and Jeff Keppinger each drove in two runs.
"It started with the way Erik pitched," White Sox manager Robin Ventura said. "I thought he did a good job, he's going against a tough lineup, he kind of just stayed out of trouble. When he needed a pitch, he made it. It's pretty good composure for a kid as young as him. He was staying down in the zone, working down there."
Johnson earned the second win of his career, just six days after getting his first Major League win when he threw six shutout innings against the Twins.
"Each start I take, I try to build off the last one," Johnson said. "Each time I'm out there learning something new, learning about the game."
Garcia gave the White Sox an early lead with an RBI single to score Gillaspie. The Tigers responded in the fourth when Prince Fielder drilled a first-pitch fastball to the right-field seats. His 25th home run tied the game at 1.
In the fifth, Marcus Semien led off with a single, followed by Alejandro De Aza drawing a walk. Two batters later, Gillaspie smashed a triple over center fielder Austin Jackson's head, scoring Semien and De Aza. Garcia then brought home Gillaspie with an RBI bloop single, giving the visitors a 4-1 cushion.
"I think for me, it was just one pitch, one pitch against Gillaspie," Sanchez said. "He hit it hard, he brought in a couple runs and then Avisail, he got a good game today. So I think in the end, you have to give credit to them. They played hard in the situation they're in right now."
Garcia went 3-for-5 with two RBIs on Sunday, batting .333 with one home run and eight RBIs in eight games against Detroit after being traded by them on July 30.
"I just tried to see the ball, hit the ball and not try do too much," Garcia said. "I got lucky with the [bloop] fly ball. The other one I hit pretty good. He's a good pitcher. With pitchers like that, you don't have to do too much because they're nasty, they've got a lot of pitches and they get you out a lot."
Said Ventura: "I think [Garcia] came ready to play. I think it's different coming against a team you were just traded from. I'm sure there was a little adrenaline there and incentive."
In the seventh, Jeff Keppinger hit a two-run double after the South Siders loaded the bases with a single and two walks, increasing their lead to 6-1.
The Tigers threatened in the bottom half of the seventh, using three hits to load the bases with one out. Jackson hit a sacrifice fly to right, scoring Alex Avila to cut the White Sox lead to 6-2. Donnie Veal replaced Johnson, and was able to get out of the inning with a lineout.
After giving up a six-run lead on Friday, the Tigers began the ninth inning with two consecutive hits, scoring a run on a fielder's choice. However, Matt Lindstrom squashed any chance of a comeback by getting a groundout and ending the game with a strikeout.
"I didn't like the first double, but I mean other than that, you get the first couple of guys on, sure it makes you think about it a little bit," Ventura said. "There's nothing you can do about. You're still trying to get outs, and those are the toughest outs to get. Last night proved that."
In the end, the White Sox were victorious with plenty of contributions from their rookies against a team that's leading the division and on the verge of a playoff berth. For Garcia, it was a chance to show his former team what it's missing out on.
"It felt good," Garcia said. "I was trying to do my work. That was my team, but you've got to work. I'm trying to do something good for my team now."
Bobby Nightengale is an associate reporter for MLB.com. This story was not subject to the approval of Major League Baseball or its clubs.