Red alert: Rout forges tie for Wild Card lead
Red alert: Rout forges tie for Wild Card lead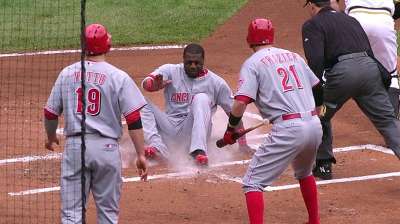 PITTSBURGH -- The Reds moved quickly on Sunday to put a damper on the Pirates' regular-season home finale. Now they will spend the week trying to make sure Pittsburgh doesn't host any postseason games at PNC Park.
An 11-3 victory gave the Reds two of three games in the series and had both 89-67 teams back into a deadlock for second place -- two games behind the Cardinals, who lost to the Brewers on Sunday night -- in the National League Central race with six games left. If neither team can catch St. Louis, the next best thing is the fight to host the Oct. 1 NL Wild Card game.
Tied with the Pirates for the top spot and home-field advantage in that Wild Card game, the Reds' magic number to clinch a playoff berth is at two after the Nationals' lost the first game of a doubleheader on Sunday.
"If we're going to play a one-game playoff, we sure would like to do it at home," said left fielder Chris Heisey, who snapped an 0-for-20 skid with three hits and two RBIs. "If we fell two games behind today, it would have been an uphill battle the rest of the way. We've played a lot better at home this year than we have on the road. Hopefully it doesn't, but if it does come down to that last game, hopefully it comes at home."
Cincinnati and Pittsburgh will meet again next weekend for the final three games of the season at Great American Ball Park. In between, the Pirates travel to Chicago for three games vs. the Cubs, while the Reds return home after a 6-3 road trip to play three against the Mets.
"Every game is going to be huge from here on out," Reds pitcher Bronson Arroyo said.
Facing Pirates lefty Jeff Locke, who came in with a 1.19 ERA in four career starts against them, the Reds pounced for a 5-0 first-inning lead. Locke had the bases loaded with one out when Jay Bruce lined a three-run double through the gap in left-center field. It gave Bruce 42 doubles on the season.
Next came Todd Frazier, who lined a two-run home run to the deepest part of the ballpark in left-center field to bring the boos from the sellout crowd of 38,699 fans. A total of nine Reds batted in the inning, and Locke was given a quick hook, with Jeanmar Gomez taking over for the second.
Reds manager Dusty Baker installed Billy Hamilton and Heisey in the top two spots of the lineup and was rewarded with a combined six hits in the game.
Hamilton led off and bunted to the left side for a single, stole second base and scored on Heisey's RBI double to left-center field. Heisey was on third base when Brandon Phillips sent a sacrifice fly to center field to make it a seven-run game. Hamilton, who later swiped second base again in the sixth, is 12-for-12 in steals this season.
Arroyo would need the padding on a day when he wasn't at his sharpest. Arroyo threw 92 pitches over five innings and gave up three runs on five hits, including two homers, with two walks and three strikeouts. Now 14-11, he joined Mat Latos and Mike Leake to give the Reds three 14-game winners for the first time since 1975.
Both walks against Arroyo came during a 33-pitch first inning that included a 10-pitch showdown with Andrew McCutchen before he popped out. Neil Walker led off the bottom of the third inning by hitting an 0-1 pitch into the right-field seats. In the fifth, pinch-hitter Travis Snider sent an 0-1 offering to center field for a homer.
"I didn't have very good stuff by any means, but the boys showed up today and put 11 on the board," Arroyo said. "We needed two out of three no matter what, and however we could do it, so it was a good win for us."
After Snider, next batter Jose Tabata was hit on the elbow with an 87-mph sinker, but Tabata made little effort to get out of the way. Although fans booed, no warnings were issued, and Tabata scored on Walker's RBI double to right field. Bench warnings came in the top of the sixth, when Pirates reliever Stolmy Pimentel threw a wild pitch behind the back of Phillips. No ejections were issued.
"The pitch to Tabata, why would we want to hit somebody with nobody out and start a rally? We had a lead," Baker said. "That just kills me sometimes, the logic and common sense of things. That's the last thing we want to do is start a rally, create a big inning and cut the deficit. The pitch to Brandon looked intentional, but we got some life out of it, and it scored some more runs after that."
After reliever Alfredo Simon gave the Reds two scoreless innings behind Arroyo, the offense finally added on with three runs in the eighth against Vin Mazzaro. Hamilton lined a ball to shallow left-center field -- a routine single for most -- and used his speed to turn it into an easy double. He scored on Heisey's RBI single to center field.
"You get a little scared when you don't add on," Baker said. "That's happened sometimes earlier in the year when we score early and don't get any more. Their bullpen had shut us down for a long time there, and then we added some runs at the end to make it a lot easier."
The Reds finished with a 41-41 record on the road this season. They've been one of the NL's better home teams with a 48-26 record.
"Our home record is similar to the Pirates' home record [50-31]," Baker said. "It's really important, and it's important to get that energy from your home fans. It was a little hostile here. I've never seen it like that. I've been coming here for years."
Mark Sheldon is a reporter for MLB.com. Read his blog, Mark My Word, and follow him on Twitter @m_sheldon. This story was not subject to the approval of Major League Baseball or its clubs.