Orioles' postseason hopes fading after loss
Orioles' postseason hopes fading after loss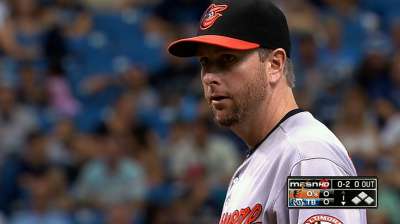 ST. PETERSBURG -- A formerly formidable high-octane offense continued to backslide through the second half of the season. The Orioles mustered three hits on Sunday afternoon, the latest in an all-too-familiar scenario that's sinking their postseason hopes.
The O's, who are batting .186 in the nine games of the current road trip, were unable to get anything going off a Tampa Bay team that made good use of its bullpen following Enny Romero's 4 2/3-inning Major League debut.
The end result, a 3-1 loss, is Baltimore's fourth consecutive defeat and drops the club 4 1/2 games behind Cleveland for the second American League Wild Card spot.
"[W]e are going to have to win out and hope for the best on other sides," center fielder Adam Jones said of a Baltimore club that must climb past three teams -- New York, Kansas City and Texas -- to take Cleveland's Wild Card spot. "It's not easy playing the game as is, but we battle and we grind, and sometimes it's like the saying Jim Thome used to use: 'Sometimes you are the bug, sometimes you are the windshield.' Past couple of days we've been the bug, so we need to get back to being that windshield."
The Orioles' pitching has been erratic all season, but it's the lineup's lull -- the offense has scored two runs over the last 29 innings -- that has them fading fast in a crowded playoff picture, with Sunday's defeat the 15th time in 19 games they have scored four runs or fewer.
"We can do it, we can do it," manager Buck Showalter said of his club's chances of making it to October. "We're going to have to get a little cooperation mathematically, but you'd be surprised how quickly the outlook on things change in one day's time. So I try to keep that in mind."
One thing is for sure: The Orioles have not been helping themselves lately.
Over the tough 29-inning stretch, the Orioles are batting 10-for-98 as a team, with an average of .163 in the first three games of the four-game set against the Rays. After averaging 4.72 runs per game over the first five months of the season, the Orioles are down to 3.71 in September, sputtering at a pivotal point in the season.
"We're just having trouble coming up with hits," second baseman Brian Roberts said. "But you tip your hat, [Romero] did a fine job.
"Hitting is the hardest thing in the world to do. So sometimes that happens," Roberts said of a club that was held to a single by Romero and limited to one run or none in back-to-back games for just the second time this season.
"At some point you are going to struggle," he added. "You are going to struggle as a team, and you are going to struggle individually. Unfortunately, this is not the best time. But that's part of it."
Third baseman Manny Machado, who reached base twice, singled to start the game before the O's squandered four walks over Romero's 4 2/3 innings. The rookie, who threw just 38 of 70 pitches for strikes, issued a pair of walks in the second, including a leadoff free pass to Danny Valencia, but retired Michael Morse on an inning-ending groundout.
Morse, who was robbed of an extra-base RBI hit by Wil Myers' fantastic on-the-run grab in right field, was one of the final batters Romero would face, as the 22-year-old exited after Kelly Johnson's error put Roberts on. Reliever Brandon Gomes came on and struck out Machado to strand a pair of runners in the fifth, then turned over the ball to right-hander Wesley Wright after fanning Jones to start the sixth. Wright and lefty Jamey Wright each recorded strikeouts as Rays manager Joe Maddon used a bevy of relievers to keep his club's hold on the top Wild Card spot.
"We needed to come in here and sweep this series, that's how our chances were," Jones said of the precarious position the Orioles have played themselves into. "And we were unable to do that so far. Like I said, [Romero], we'd never seen him before. I think the second time around, we started to have better at-bats, and then he got yanked and they got into that bullpen.
"We are facing good pitching, but you know me, that's no excuse. We are just not getting it done. Everybody here, it's not lack of effort, sometimes it's just how the game unfolds. And on our side, it's the wrong time for it to unfold. But there ain't no complaining in here, we are out here grinding our [tails] off, and we can live with the results."
Scott Feldman, who allowed three runs or fewer for the eighth consecutive start, turned in a solid 6 1/3 innings but got no support, with the Orioles' lone run coming on Matt Wieters' ninth-inning RBI double on a hit that ricocheted off the catwalk.
"Scotty's been solid," Showalter said. "He's very quietly put together another good year. He's a pro. Tough guy, knows how to pitch, going to keep you in the game. I like him."
After David DeJesus worked a 10-pitch at-bat before connecting for a leadoff homer in the first, Feldman quieted Tampa Bay until a pair of runs in the sixth. Those came on Matt Joyce's sacrifice fly and James Loney's blooper, which pushed the Rays' lead to three.
"We would have loved to have won the first three [games of the series], but the reality is that we didn't," said Feldman, who struck out seven. "So we have no choice but to keep playing hard, try to come out tomorrow and take that last game and keep playing hard the rest of the way and see what happens. Hopefully, we can string together a hot streak here to wrap things up."
Feldman allowed six hits and two walks before being replaced by lefty Brian Matusz, who tossed a scoreless inning before Darren O'Day came on to record the final two outs.
"I don't think we can call around, call different teams and ask them to lose their games," Jones said of getting help from the outside. "We can't control anything else except ourselves in this clubhouse. We are grown men in here, [you] live with the result when [you] are going out there giving it our all. Sometimes you just fall short."
Brittany Ghiroli is a reporter for MLB.com. Read her blog, Britt's Bird Watch, and follow her on Twitter @britt_ghiroli. This story was not subject to the approval of Major League Baseball or its clubs.