Rays top O's, keep grasp on top Wild Card spot
Rays top O's, keep grasp on top Wild Card spot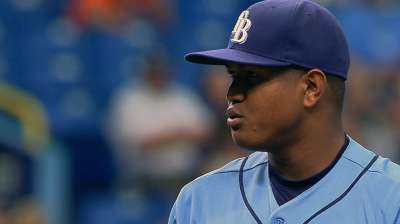 ST. PETERSBURG -- It all started with a tweet.
Enny Romero, the 22-year-old left-hander who has been in Tampa Bay's Minor League system since 2008, sat at home in the Dominican Republic, watching as the Rays used a Major League-record 11 pitchers in Friday's 18-inning win.
Before going to sleep sometime in the 16th, he tweeted, "I could come and pitch tomorrow."
He got his wish, and he allowed just one hit over 4 2/3 innings in his Major League debut, a 3-1 Rays win over the Orioles at Tropicana Field on Sunday.
Friday's near seven-hour marathon forced the Rays to scratch originally scheduled starter Jeremy Hellickson, as he was needed in relief, leading them to Romero, who had not pitched in more than a week.
"I was happy when my agent called me," Romero said. "He said, 'You have only one hour to go to the airport. You're going to the big leagues. I was nervous and happy."
Accompanied by his wife and a pair of proud yet tearful parents, Romero made it to the airport, boarded a plane to Orlando, made the drive to St. Petersburg and tried to get some rest.
"My body was tired because of flying and driving," he said. "I couldn't sleep very well last night. I was excited."
Of course, he didn't take the mound without a pep talk from manager Joe Maddon.
"I said, 'All I want you to do is go out there and pitch your game. Don't look at a scouting report. Just pitch like you have been and enjoy yourself,'" Maddon said.
It wasn't perfect. Romero gave up a leadoff single to Manny Machado and issued four walks, but he held down the Orioles by working around the free passes and producing eight ground-ball outs.
Although he didn't earn the win because he did not pitch five innings, his performance helped push Baltimore farther out of the playoff picture while keeping Tampa Bay in sole possession of the American League's top Wild Card spot.
Sept. 22 is starting to become a special day for young left-handers in the Tampa Bay organization, as both David Price (2008) and Matt Moore (2011) made their first big league starts on this date.
"They're all left-handed, they're all about the same size," Maddon said. "It's fun to watch us bring someone up from the Minor Leagues under these circumstances against a very good team and get that kind of result."
David DeJesus wasted no time supplying Romero with a cushion, working a 10-pitch at-bat in the first inning and hitting a home run off Scott Feldman, his first as a member of the Rays.
"We threw him every pitch I had," Feldman said. "He fought off some of my better pitches, put together a good at-bat. I left one over the middle, and he hit it."
Working with that one-run lead until the Rays plated two more in the sixth, five Rays relievers combined to shut the door on the Orioles. In the sixth, Maddon used three pitchers to strike out the heart of Baltimore's lineup in order.
"When a kid making his debut goes out there and does the job [Romero] did, exceeded all expectations and gave us a chance to win, you can't wait to go out there and hold that lead for him," said right-hander Jamey Wright, who needed just 14 pitches to secure four outs.
Tampa Bay added to its lead in the sixth. Desmond Jennings laid down a bunt single to start the inning. He exited with a tight left hamstring and was replaced by pinch-runner Sam Fuld, who took two bases on a walk and wild pitch and scored on Matt Joyce's sacrifice fly to left field.
Ben Zobrist, who'd reached on the walk, scored after consecutive singles by Wil Myers and James Loney.
Maddon has not yet determined whether another start is in store for Romero but is grateful for the poise the young hurler showed in helping to give the Rays a pivotal win with just seven games remaining.
All of which might not have been possible without the tweet.
"For all our Minor Leaguers out there, get on Twitter, and you might end up in the big leagues for a playoff run," Maddon said.
Sam Strong is an associate reporter for MLB.com. This story was not subject to the approval of Major League Baseball or its clubs.