Nationals take tough loss to open twin bill
Nationals take tough loss to open twin bill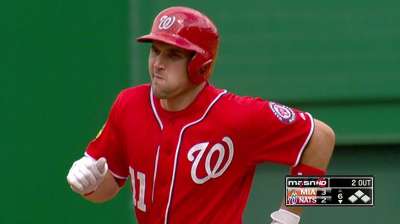 WASHINGTON -- There is still a week left in the Nationals' season, and they are still mathematically in the playoff race. But it certainly didn't feel that way after a 4-2 loss to the Marlins in the first game of Sunday's split doubleheader at Nationals Park.
With their backs against the metaphorical wall, the Nationals struggled to stop the lowly Marlins offense or hit their unheralded starting pitcher. They recorded four hits and gave up 12, seriously damaging their postseason hopes in the process.
With Cincinnati's win in Pittsburgh, the Nationals were 5 1/2 games out in the National League Wild Card race with seven games remaining entering Sunday's nightcap. Washington's loss also allowed the Cardinals to clinch a playoff berth, while Atlanta clinched the NL East outright.
"This one hurt," manager Davey Johnson said.
Before his penultimate game at Nationals Park as manager, Washington honored Johnson for his contributions to the organization with a video montage and customized crystal. One by one, he shared hugs and friendly jabs with his players and coaches.
"I like to stay away from those emotions. It got to me," Johnson said. "The players coming out and guys talking about me, that was moving. I feel for them greatly. To get something like that coming back makes you happy and sad at the same time."
The afternoon also had a touch of finality for Dan Haren, who made what might have been the final home start of his Nationals tenure. He worked six solid innings but once again failed to keep the ball in the park, allowing three earned runs on two homers. In 29 starts this season, he has given up 28 home runs.
Giancarlo Stanton was the first to homer off Haren, working a seven pitch at-bat before depositing a two-run shot in the right-field seats in the first inning. Christian Yelich, who doubled, also scored on the play. Yelich followed later with a home run of his own, a solo shot, in the third inning. Stanton was waiting on deck.
"[Stanton] definitely changes the game," Haren said. "Even the ball Yelich hit, it was 3-1, I threw a cutter trying to throw a strike. With two outs, he's on deck. I didn't want to walk him. I was trying to make him put the ball in play."
The Marlins teed off on Haren to the tune of eight hits over six innings. The Nationals, meanwhile, couldn't seem to figure out Tom Koehler.
Koehler entered Sunday's game with a 4.51 ERA and allowed six earned runs in his previous start against the Nationals. This time around, however, he looked like a completely different pitcher.
Ian Desmond, Adam LaRoche and Ryan Zimmerman were the only three Nationals to reach base against Koehler in the first five innings. LaRoche and Zimmerman singled, but each hit was followed by an inning-ending double play. Desmond was hit by a pitch, but didn't advance past first base.
"We talked about that when we got here, we were going to play teams down the stretch that are trying to get in the playoffs or are in the playoffs," Koehler said. "This is a good experience for us. Obviously, we're not in it. But to get to play against teams who are playing for something that means something, it's good -- because we're going against guys who are really locked in."
Washington finally got to Koehler in the sixth inning, when Denard Span drew a two-out walk and Zimmerman sent a 2-1 pitch to the seats in left-center field. The Nationals cut the lead to, 3-2, and handed the ball to their bullpen.
Ryan Mattheus had another rough outing, as Juan Pierre hit a pinch-hit single, stole second base, advanced to third on a wild pitch and scored on a sacrifice fly by Donovan Solano. But Xavier Cedeno induced an inning-ending double play, and Drew Storen and Erik Davis did their part to keep the game close.
The Nationals brought the top of their order to the plate in the ninth inning. Span and Zimmerman each struck out before Jayson Werth harmlessly popped out to first baseman Logan Morrison. As the Marlins streamed onto the field, the Nationals felt their season slipping away.
"I'm not good at math, but I'm good enough to know that losing makes it tougher," Zimmerman said. "But you've just got to keep playing and see what happens. We put ourselves in this situation. We've just got to keep trying to finish strong."
Tom Schad is an associate reporter for MLB.com. This story was not subject to the approval of Major League Baseball or its clubs.