Angels hang on for another series victory
Angels hang on for another series victory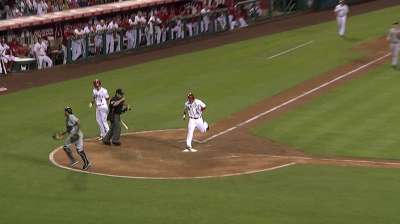 ANAHEIM -- Strong starting pitching and timely hitting is a pretty basic formula that, when executed, often results in wins.
The Angels used this formula to beat the Mariners, 6-5, at Angel Stadium on Saturday night, but were mathematically eliminated from playoff contention shortly before the game began.
"I think the one word that still lingers, that we're maybe trying to massage out of this clubhouse, and certainly the way we feel, is frustration," Angels manager Mike Scioscia said. "I think we've gone a long way in the last month to show the kind of baseball we can play and put together good games, particularly on the pitching side. It's been frustrating. I don't think there's any way to sugarcoat it."
Jerome Williams continued to pitch well and Grant Green had a trio of RBIs as the Angels (76-78) clinched the series with the win and have now gone 8-0-1 in their past nine series.
Friday's victory was just the latest example of what has been the Angels' best stretch of the year.
The Angels are 21-7 since Aug. 23 and in that span they lead MLB with a 2.96 ERA.
On Friday, Williams fulfilled his end of the bargain -- despite struggles with command as he walked five.
"Always want to go out there and try to do my best every time I go out there," Williams said. "I've had a couple rough stretches and right now I just want to go out there and finish strong."
The right-hander allowed one run on five hits in 5 2/3 innings as he won his fourth straight start -- a feat Williams hadn't accomplished since 2003.
"He's throwing the ball very vell probably in his last five or six starts," Scioscia said. "You're always being evaluated. You're trying to impress any time you're out there on the field, you're trying to show what you can do and Jerome's done that to a certain extent. I think he's still working on some things, he keeps trying to get better."
In September, the Angels are averaging over five runs a game. On Friday, it continued.
In the second inning, Mark Trumbo drew a walk, Chris Iannetta singled and Collin Cowgill drew a walk to load the bases for Green.
The second baseman then laced a double down the left-field line, clearing the bases and giving the Angels a 3-0 lead.
"[Down] 0-2, to come back and get into a count, lay off some tough pitches and then get a big hit to clear the bases, that's a good at-bat," Scioscia said. "One thing about Green, he's still evolving as a player, but he's gotten some big hits for us since he's been up with us."
Green now has hits in nine of his past 12 games and 14 RBIs in his last 17 games with an at-bat. Andrew Romine followed up Green's double with an RBI single to cap the four-run inning.
In the fourth, Cowgill snapped an 0-for-18 streak with a solo home run. He followed that with a leadoff triple in the seventh and a steal of home on a wild throw from Mariners left-hander Joe Saunders.
"I knew it was coming," Saunders said. "It was just a matter of when in the count. I had a changeup grip and tried to throw it high so he couldn't bunt it and it just sailed on me and too far outside for [Henry Blanco] to catch it. Another run scored and that ended up being huge."
The Mariners battled back with four runs against the Angels' bullpen before Ernesto Frieri closed it out for his 36th save of the season.
The win pulled the Angels to within two games of .500 and although the initial goal was to make the playoffs, the team is now focused on finishing the season with a winning record.
"It's very important," Williams said. "You try to get to .500 and you try to finish out the year strong. Hopefully we can carry that over to next year and we can start next year strong, too."
William Boor is an associate reporter for MLB.com. This story was not subject to the approval of Major League Baseball or its clubs.