Ibanez belts milestone HR as rally falls short
Ibanez belts milestone HR as rally falls short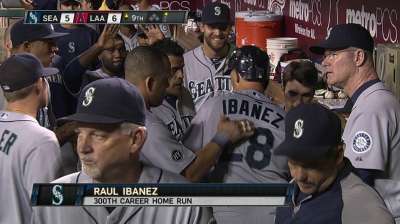 ANAHEIM -- A rough second inning spelled doom Saturday for Mariners lefty Joe Saunders as Seattle's September spiral continued with a 6-5 defeat to the Angels, but Raul Ibanez put a positive spin on things by hitting a historic home run in the ninth.
Ibanez cut the final margin to one run with his 29th blast of the season, tying him with Ted Williams for the most homers ever by a player age 41 or older. Williams hit 29 for the Red Sox in 1960. It was Ibanez's 300th career home run as well.
"Obviously, Ted Williams is the greatest player that ever lived. I am not," Ibanez said with a smile. "To be in that type of company just means I'm old, I guess, and I've been doing this a long time."
But it also means Ibanez has been extremely productive this year in his return to the Mariners at 41, with his 29 home runs the third-most in his 18-year career.
"What a great accomplishment and for such a great human being," said Mariners manager Eric Wedge. "Everybody is rooting for him, not just here in our dugout, but throughout baseball. For him to take care of himself over the years, he's a caretaker for the game of baseball. That's the best compliment I can give him.
"We had high expectations for him as a teammate and player and person, but he's probably surpassed that, if it's even possible. Individually, you didn't expect him to do what he's done this year. There were times he carried us in the first half, and obviously he's still getting his hits now and still hitting the big ball now and then. It's been a fantastic year for him."
It's been a less-than-fantastic season for the Mariners, however, as the loss was their 11th in the past 13 games. They fell to 2-7 on their final road trip with one game remaining Sunday against the Halos, and now are 67-88 on the season, having lost one more game than they did in all of 2012 with seven more games still to play.
Saunders had only allowed three earned runs in 21 1/3 innings in three prior starts against his former team, but gave up four in the second inning alone as he struggled with his command early.
Saunders recovered to retire 14 of the next 15 batters but wound up falling to 11-16 with a 5.26 ERA on the season after allowing six runs on six hits in seven innings. Saunders struck out a career-high-tying nine batters with two walks while throwing a season-high 125 pitches.
The 32-year-old lefty issued both of his walks in the ill-fated second frame, loading the bases with one out, then saw Grant Green hug a double down the third-base line to bring in three runs. Andrew Romine followed with an RBI single for a 4-0 lead as Saunders threw 39 pitches in the inning.
"It was a battle," Saunders said. "I was making good pitches all day. I don't even know if it was a mistake to Green on the double. It was a 3-2 count and he hit it in the perfect spot. I just tried to minimize damage after that and keep us in the game as long as we could."
Seattle loaded the bases with one out in the third against Jerome Williams, and Kyle Seager pushed home a run with a groundout to first, but that was all the damage mustered against Williams in his 5 2/3 innings.
The Angels tacked on another run against Saunders in the fourth with a solo shot to center by Collin Cowgill to make it 5-1. Cowgill scored another critical run in the seventh when he tripled and stole home as Saunders threw wide of catcher Henry Blanco as Cowgill charged down the line on a squeeze bunt that wasn't needed.
"I knew it was coming," Saunders said. "It was just a matter of when in the count. I had a changeup grip and tried to throw it high so he couldn't bunt it and it just sailed on me and too far outside for Hank to catch it. Another run scored and that ended up being huge."
Shortstop Nick Franklin went 2-for-3 with a walk and right fielder Michael Saunders continued his recent rebound with a double in the fourth in a 1-for-4 night with a walk. Saunders has hit .444 (8-for-18) with five doubles, a triple and four RBIs over the past five games.
Seattle scored its second run in the seventh when reliever Cory Rasmus walked a pair of runners and then balked rookie Abraham Almonte in from third base, and the Mariners added two more in the eighth on an RBI single by Dustin Ackley and sacrifice fly by Almonte.
Ibanez then made things close with his one-out home run before Ernesto Frieri closed out the game for his 36th save.
"Obviously it's a great honor and privilege to be in this situation," Ibanez said. "I feel blessed to be playing this long to get this opportunity. But at the same time, it's really about winning baseball games and tonight we fell short. It would have felt a lot better if we'd have won."
The Angels (76-78) clinched the series with the win and have now gone 8-0-1 in their past nine series and are 21-7 since Aug. 23, a stretch that began with a three-game sweep in Seattle. The Mariners are 8-21 in that same span.
Greg Johns is a reporter for MLB.com. Follow him on Twitter @GregJohnsMLB as well as his Mariners Musings blog. This story was not subject to the approval of Major League Baseball or its clubs.