Cards back sharp Lynn, close in on playoff spot
Cards back sharp Lynn, close in on playoff spot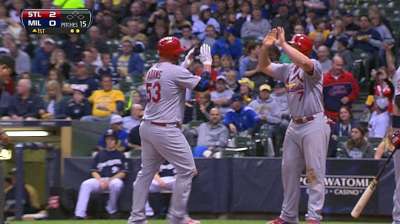 MILWAUKEE -- Behind another blast from Matt Adams, a strong start from the suddenly rejuvenated Lance Lynn and a flurry of late offensive support, the Cardinals inched closer to locking down their invitation to October.
With a 7-2 victory over the Brewers on Saturday night, the Cardinals are on the precipice of securing their third straight postseason berth. That celebration -- which will be muted because of bigger goals ahead -- can happen as early as Sunday, possibly before the Cardinals even take the field again.
A loss by the Nationals in either game of their Sunday doubleheader puts the Cardinals officially in.
"Clinching that would be an accomplishment and it's something we'll enjoy and definitely be proud of," said Matt Carpenter, whose fifth-inning double (no. 54 of his season) pushed him past Stan Musial for most in a season by a Cardinals left-handed hitter. "But at the same time, our focus is trying to win this division. We're definitely in the driver's seat at this point as long as we go out there and take care of business."
With wins in 11 of their last 15 games, the Cardinals are nearing their first division title since 2009. They hold a two-game lead in the National League Central with seven games remaining. They trail the Braves in the race for the NL's best record by only a half-game. Both teams have 91 wins.
"We don't shy away from the fact that anything you get to play after game 162 is special," manager Mike Matheny said. "We'll definitely acknowledge that. But we still have a lot of work to do."
As the Cardinals prepare for October, continued contributions from Adams and Lynn will be key.
A day after he thought he had a game-winning, two-run homer in the ninth, Adams connected for a two-run shot off Yovani Gallardo in the first on Saturday. The homer was Adams' seventh since Allen Craig went down on Sept. 4, and his 16th of the season. Adams has reached that total -- the third highest on the team -- despite accruing just 268 at-bats as a mostly part-time player.
It's the recent everyday at-bats, Adams said, that have set him up to thrive in Craig's absence.
"I feel like my timing and my rhythm is back to where it was at the beginning of the year," Adams said. "I talked a couple weeks earlier when I started playing when Allen went down that my rhythm wasn't there. It definitely feels a lot better now. I'm picking the ball up a lot better. I'm just trying to take full opportunity of this and make the most of it."
In the seven-week stretch before Craig's injury, Adams had nine hits (two homers) in 57 at-bats. He made only 11 starts.
"Once again, you look at the situation we're in, not just losing our first baseman, but losing our cleanup hitter and putting a young kid in it who is able to handle it and handle it well," Matheny said. "I think he's growing as a player and he's growing as a hitter."
In front of 35,008 at Miller Park, the Brewers never pulled out of the early two-run hole. Lynn preserved the lead for 6 1/3 innings before five eighth-inning runs padded the lead for a St. Louis bullpen in flux. Matheny will have at least one more day to consider how to handle the team's next save situation.
Gallardo was stingy for most of his seven-inning start, but was stung with his 10th loss because of the first-inning mistake. Matt Holliday, whose average has climbed from .287 to .298 on this road trip, extended that opening frame with a two-out single to center. Adams then crushed a 1-2 curveball into the right-field seats.
"I just left the ball up," Gallardo said. "I think he's one of those guys that have a lot of power, and it doesn't take much for him to hit a ball hard somewhere."
Lynn gave one of those runs back in the bottom of the first, but escaped the inning with a lead. A strikeout of Jeff Bianchi stranded a pair of runners in scoring position.
That was the first of seven strikeouts for Lynn, who won for the first time in his last nine starts. He allowed just five baserunners after the first and none advanced as far as third.
"He got better [as the game went on]," Brewers manager Ron Roenicke said. "We had a shot early there to get him, and we didn't get him. And it's the difference."
It was only two weeks ago that the Cardinals were preparing to remove Lynn from the rotation if he couldn't get back on track. He's made three quality starts since, giving up 15 hits and three earned runs in 18 2/3 innings.
He never did believe he was far away from returning to form; the key to finding his way back was to rediscover his aggressiveness.
"Last year at that time [I was struggling], I was searching and I could feel that I was trying to find something to work," Lynn said. "Whereas during this stretch, I knew I had good stuff."
"Typically, your best teacher are those times of adversity, which he's had a couple this year," added Matheny. "He's paid close attention, and he's making the adjustments."
Matheny let Lynn pitch to two batters in the seventh before turning to lefty Randy Choate when the potential tying run reached. Choate retired the two left-handed hitters in Milwaukee's lineup to sap that threat. Trevor Rosenthal began to warm up to pitch the eighth, but soon sat back down when the Cardinals scored five times off Rob Wooten in the top half of the inning.
David Freese and Daniel Descalso each had two-run hits in the frame. With the win, St. Louis improved to 14-4 this season against Milwaukee. Eight of those wins have come at Miller Park.
Jenifer Langosch is a reporter for MLB.com. Read her blog, By Gosh, It's Langosch, and follow her on Twitter @LangoschMLB. This story was not subject to the approval of Major League Baseball or its clubs.