Gallardo settles, but Brewers can't solve Cards
Gallardo settles, but Brewers can't solve Cards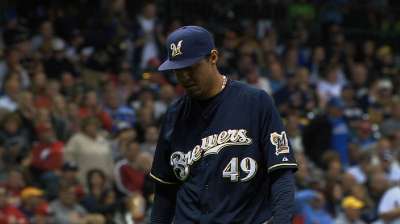 MILWAUKEE -- While playing two states away and nearly 400 miles north of Busch Stadium, the Cardinals have felt right at home at Miller Park this season.
The Cardinals improved to 14-4 against the Brewers in 2013 with a 7-2 win Saturday night, and they upped their record at Miller Park to a sparkling 8-1, with only Sunday's series finale remaining.
"I don't care where it is. Home or where it is. We need to be able to beat them," Brewers manager Ron Roenicke said. "When we play a good game, we need to be able to beat them."
The Brewers have failed to do that in their last shot against the Cardinals this weekend, dropping the first two games of the three-game series. The Brewers have lost three straight to drop to 5-4 on their final homestand of the season, and they must win on Sunday to ensure their first winning homestand since they won four of seven games against the Marlins and Padres from July 19-25.
The Brewers fell to 36-44 at home this season, the worst mark at Miller Park since they went 36-45 in 2004. Milwaukee went a combined 106-56 at home from 2011-12.
"I don't care about numbers or whether we have the most wins or losses at home," Roenicke said. "I don't care about that stuff. What I care about is winning as many ballgames as we can. I don't care where it is. I don't care who it's against."
This season it has not been against the Cardinals, who rode another stellar game from Matt Adams on Saturday, before Milwaukee's bullpen opened the game up late.
Adams hit a two-run home run for the second time in as many days to start the scoring off Brewers starter Yovani Gallardo in the first inning. After retiring the first two hitters, Gallardo gave up a single to Matt Holliday and Adams followed with his 16th home run to left field.
The Cardinals lost first baseman Allen Craig for likely the remainder of the regular season to a foot sprain on Sept. 4, and Adams -- his replacement at first -- has seven home runs and 14 RBIs since then.
"Once again, you look at the situation we're in, not just losing our first baseman, but losing our cleanup hitter and putting a young kid in it who is able to handle it and handle it well," Cardinals manager Mike Matheny said. "I think he's growing as a player and he's growing as a hitter."
He's also getting on the Brewers' nerves.
Adams followed a 3-for-5, three-RBI performance in Friday's series opener by going 2-for-4 with the two-run home run Saturday. In 11 games against the Brewers this season, the 6-foot-3, 260-pound first baseman has a .412 batting average (14-for-34), with five home runs and 12 RBIs -- his most against any team he has faced this year.
"I just left the ball up," said Gallardo of the curveball he hung to Adams. "He's tough. Like I said, he hits mistakes. I think he's one of those guys that has a lot of power, and it doesn't take much for him to hit a ball hard somewhere."
Gallardo settled down after his shaky first inning and retired 19 of the final 22 batters he faced. After the first, Gallardo walked one and allowed just a single and a double. The right-hander was pinch-hit for in the eighth after throwing seven innings, allowing two earned runs on four hits. He walked two and struck out seven and threw 112 pitches -- 66 for strikes.
Gallardo took his first loss in seven starts since returning from the disabled list from a hamstring injury on Aug. 17.
"You want to finish off the year strong and end on a positive note," Gallardo said. "Ever since I came off the DL, things have been falling into place."
But Cardinals starter Lance Lynn was a little bit better. After coughing up a run in the first inning on a Khris Davis groundout, Lynn retired 18 of the final 23 batters he faced. The righty limited the Brewers to one earned run on four hits in 6 1/3 innings. He walked four and struck out seven, throwing 109 pitches -- 67 for strikes.
"He got better [as the game went on]," Roenicke said. "He's got a really good fastball, a two-seamer. He comes back with a four-seamer. Threw some nice changeups, got a nice breaking ball. We had a shot early there to get him, and we didn't get him. And it's the difference."
The bigger issue for the Brewers is their bullpen that surrendered five runs in the eighth inning to open the game up. On Friday night, Milwaukee's bullpen gave up five late runs in a 10-inning, 7-6 loss.
After three straight singles off Rob Wooten, Yadier Molina drew a bases-loaded walk to make it 3-1. Then Wooten gave up a two-run single to David Freese before Alfredo Figaro came in and allowed a two-run double to Daniel Descalso.
"Well, some of them are overworked," Roenicke said. "Some of them are in a little different roles than I put them in. Yovani did a nice job pitching after that first inning and getting us to that point. We played a good game for seven innings."
But seven innings were not enough for a win against the Cardinals, and the bad taste of losing to his National League Central rival continued for Brewers catcher Jonathan Lucroy on Saturday night.
"It doesn't matter who it is," Lucroy said. "They're a good team and they battle pretty hard. They hit really well with runners in scoring position. They did a pretty good job of focusing on the big moment, so we've got to figure out a way to get better."
Kevin Massoth is an associate reporter for MLB.com. This story was not subject to the approval of Major League Baseball or its clubs.