Boshers, Rasmus adjusting to life in Majors
Boshers, Rasmus adjusting to life in Majors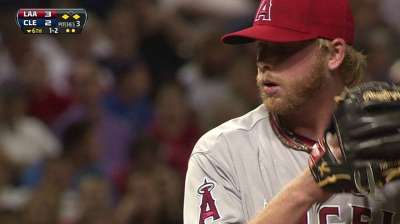 ANAHEIM -- Although the starting pitching has received a lot of credit for the Angels' recent surge, the bullpen also has been doing its part.
Since Aug. 23, the Angels are 20-7 and their relievers lead all of baseball with a 1.81 ERA entering Saturday's action.
"Everything is clicking for us," left-hander Buddy Boshers said. "We're pitching well as a staff and starters are going deeper in the game, which makes it a little less stressful on us. I think that's a big key point for us. We just have to go out there and throw strikes, and when we throw strikes, good things happen."
While Dane De La Rosa, Michael Kohn, Ernesto Frieri and the rest of the regular relievers have been doing their part, the Angels also have received a boost from Boshers and Cory Rasmus -- a pair of young pitchers adjusting to life at the Major League level.
Boshers threw a scoreless inning in Friday's victory and has not allowed a run in seven of his past eight appearances. Rasmus, a right-hander acquired as part of the Scott Downs trade, earned his first Major League win Friday.
"When young players come up, sometimes there's a seasoning that they have to go through to get some of the butterflies out of pitching in the big leagues and understanding what they need to do, how their stuff's going to play," Angels manager Mike Scioscia said. "At times, you'll see pitchers come up and start to make adjustments and start to bring their talent onto the field, and I think we've seen that with Buddy Boshers, we've seen it with Rasmus. I think these guys have started to settle in to feeling comfortable."
Although the receivers may be gaining comfort and confidence, Boshers knows nothing is guaranteed in this league and approaches every outing as a chance to make a name for himself.
"Every day is an audition," Boshers said. "You're always being evaluated on the field, off the field and stuff like that. You can't take any day lightly or for granted because every day is an evaluation."
William Boor is an associate reporter for MLB.com. This story was not subject to the approval of Major League Baseball or its clubs.