Cloyd uneven, rain ruins potential comeback in loss
Cloyd uneven, rain ruins potential comeback in loss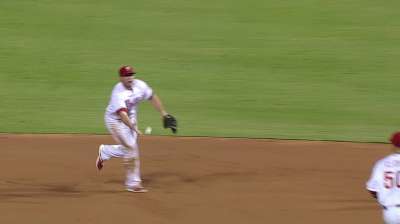 PHILADELPHIA -- It may be hard to see on nights like Saturday's 5-4 loss to the Mets, but Phillies outfielder Domonic Brown believes there is plenty to look forward to.
"We have to keep doing what we're doing," Brown said. "We're playing hard. We have a lot of good guys here. It can only get better. I'm looking forward to it."
The Phillies are 18-16 under manager Ryne Sandberg, and may soon remove the 'interim' tag from his name and set their sights on the future. But they're still slogging through a difficult present, and dropped their third straight on Saturday as Tyler Cloyd came apart in the midst of a driving rainstorm.
Entering the sixth, Cloyd had pitched five solid innings, allowing just a solo homer by David Wright. He'd given up three hits, walked two and struck out five.
But Daniel Murphy hammered his 12th home run of the season off the facing of the upper deck in right field to open the sixth, giving the Mets a 2-1 lead. Wright then singled to left, and Cloyd hit Lucas Duda with a pitch. Juan Lagares hit a laser over the head of Cesar Hernandez in center -- the converted second baseman did not get a good jump on the ball -- and Lagares was safe with a triple.
That was enough to chase Cloyd. Travis d'Arnaud doubled to right off Ethan Martin, scoring Lagares and giving the Mets a 5-1 lead as the skies opened up.
They played on in a heavy rain, and the Phillies scored three times to make it 5-4. But the umpires finally called it in the seventh, and after a one-hour, 28-minute delay, sent everyone home.
"Tough way to take a loss -- on the short end of a shortened game," Sandberg said.
Cloyd has lost four in a row and has not won a game at home in five tries. His ERA at Citizens Bank Park is 6.67, while he's 2-2 with a 4.60 ERA on the road.
"I just got the ball on the plate too much the third time though [the lineup]," Cloyd said.
"The second or third time through the lineup, he seems to struggle at times," Sandberg said. "He still has to be pinpoint with his command and be on the corners. He's getting a chance to pitch, and he'll get another chance."
Asked about his struggles at home, Cloyd said: "I have no clue. I wish I could figure it out."
The Phillies' rally in the sixth came up just short. Back-to-back doubles by Hernandez and Jimmy Rollins made it 5-2. Chase Utley smashed a double to the wall in center, but Rollins, with nobody out, held up at second, thinking he could tag up and move to third if the ball was caught. It wasn't, but Lagares was on the carom quickly and got the ball into the infield in time to hold Rollins at third. Utley's hit was the rare 400-foot double with a runner in scoring position that did not score a run. Rollins trotted home soon enough, scoring on Carlos Ruiz's grounder to third.
Utley scored on a wild pitch, pulling the Phillies to within a run. Aggressively leading off third as always, he took an odd route to the plate. He came hard down the line in foul territory, and then as the pitch crossed the plate, turned to go back into fair territory. But when Dillon Gee's pitch skipped away from d'Arnaud, Utley turned again and raced home -- even though his momentum took him several feet toward the pitcher's mound before he could change directions.
But two infield popups ended the rally, and the Phillies left the inning with a one-run deficit and a driving rainstorm. The umpires stopped the game with one out in the top of the seventh.
Brown helped the Phillies scratch out a run in the second inning to take the early lead. He led off with a single and was on the run when Darin Ruf hit a grounder to shortstop. Omar Quintanilla made a backhanded stop, but his throw was slightly up the line and Ruf was able to slide around Duda's tag. Brown made it all the way to third.
Cody Asche followed with a shallow fly to center, and Brown tagged up and headed for home. The throw from Lagares easily beat Brown to the plate, but catcher d'Arnaud had to move up the third-base line to snare it. He dove back across the plate as Brown slid wide and got a "safe" call from home-plate ump Mark Ripperger.
"Just hustling," Brown said. "I knew he had a good arm; I was just lucky it was offline."
d'Arnaud and Mets manager Terry Collins argued the call, and replays showed they may have been correct, but the Phillies had a 1-0 lead.
"He's running very well," said Sandberg. "He's 100 percent. That was good baserunning on the hit and run. When he's right, he's a good baserunner."
With his fourth-inning homer, Wright has hit 19 home runs at Citizens Bank Park, the most by any visiting player and the most he has hit in any Major League park outside of New York.
Wright has now played two games since his return from the DL and homered in both of them.
"His return means a lot, obviously," Gee said. "Two games, two home runs. He's an unbelievable player and as long as he can stay healthy, we're in very good shape."
Kevin Roberts is a contributor to MLB.com. This story was not subject to the approval of Major League Baseball or its clubs.