Young's future on back burner during Dodgers' run
Young's future on back burner during Dodgers' run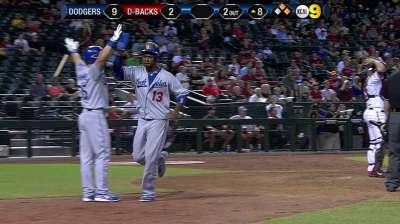 SAN DIEGO -- Dodgers infielder Michael Young is rumored to be considering retirement after this season, but he said he hasn't thought about anything beyond this year.
"I'm too focused on what I'm doing on this team," said the 36-year-old Young, who will be a free agent after this season. "Winning is the sole priority, and we're playing as hard as we can in the name of winning games. Anything else is not on the radar. There will be a time and place for that, just not now."
Young was acquired Aug. 31 from the Phillies for Minor League pitcher Rob Rasmussen. A seven-time All-Star with Texas, he hit .338 with 106 RBIs in 2011, but has tailed off since, going .277 with 67 RBIs in 2012 and a combined .284 with 46 RBIs between the Phils and Dodgers this year.
He waived no-trade protection and accepted the Trade Deadline deal to the Dodgers for the chance to play again in October. With the Rangers, Young lost the 2010 and '11 World Series and was eliminated in the Wild Card game last season.
He was acquired to be a role player on a Dodgers roster so deep that difficult cuts will be required before the playoffs. He's hitting .389 (14-for-36) since the trade, 2-for-5 as a pinch-hitter.
"I knew what I signed up for," he said of his part-time role. "The team was in great shape before I got here. I felt I could add something to the mix. I could have played every day the last month in Philly. I wanted the opportunity to win. That was more appealing to me."
Ken Gurnick is a reporter for MLB.com. This story was not subject to the approval of Major League Baseball or its clubs.