Forsythe will rest foot before deciding on surgery
Forsythe will rest foot before deciding on surgery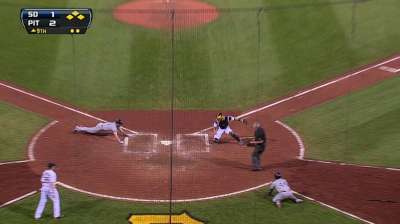 SAN DIEGO -- Padres infielder Logan Forsythe, who has been limited to five at-bats since Sept. 5 because of pain in his right foot, is still hoping to avoid surgery to fix a nagging case of plantar fasciitis.
But Forsythe acknowledged on Friday that surgery would the only possibility if his foot hasn't recovered enough from a month of rest and immobilization in the same protective boot he wore this past spring.
Forsythe will recieve cortisone shots in San Diego a day after the season ends and then will wear a protective boot to let the foot heal.
If the foot hasn't healed after a month or so, then surgery will be considered, Forsythe said. But in most cases, surgery isn't required for plantar fasciitis. He suffered the injury in Spring Training, but then it got better after rest. It started to bother him in recent weeks.
"A couple weeks out of the boot, we'll test it," Forsythe said.
Forsythe has mostly been used as a pinch-hitter of late and he's delivered two big RBI singles in victories over the Braves on Sept. 13 and Pirates on Sept. 18.
Going into Saturday's game, Forsythe was hitting .219 with five home runs and 18 RBs in 210 at-bats.
Corey Brock is a reporter for MLB.com. Keep track of @FollowThePadres on Twitter. This story was not subject to the approval of Major League Baseball or its clubs.