Cuddyer hopes to return to lineup Sunday
Cuddyer hopes to return to lineup Sunday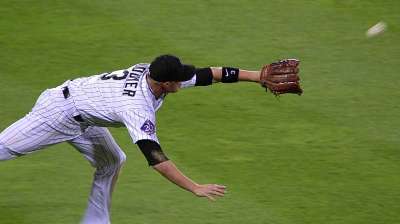 DENVER -- Rockies right fielder Michael Cuddyer didn't make enough progress to creep back into the lineup Saturday, but is hoping to return for the series finale against the D-backs Sunday.
Cuddyer sprained his left wrist -- his glove hand -- when he hit the grass after making a diving grab in Wednesday's win over the Cardinals and took swings in the cage before Saturday game.
"He's getting better," Rockies manager Walt Weiss said. "The plan was to take some swings off a tee today, we'll see how that goes. But I think there's a good chance we'll see Cuddy pretty soon."
To speed up the healing process, Cuddyer used a special machine that attached to his arm and fed the medicine into the injured area.
With six games left after Saturday, Cuddyer fell one point back of Braves third baseman Chris Johnson in the race for the National League batting title. Cuddyer held the lead for several days, but Johnson's 2-for-4 day against the Cubs Saturday gave him the slight edge.
Thomas Harding is a reporter for MLB.com. Ian McCue is an associate reporter for MLB.com. This story was not subject to the approval of Major League Baseball or its clubs.