Blackmon taking advantage of playing time
Blackmon taking advantage of playing time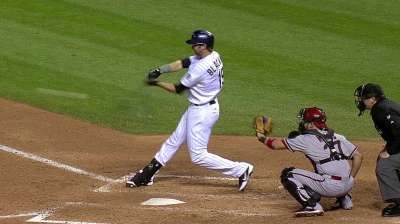 DENVER -- The Rockies placed Charlie Blackmon in the leadoff spot Saturday night against the D-backs, marking his sixth time at the top of the order in the last 10 games. While he's not a classic leadoff hitter because walks aren't a major part of his game, he has hit .320 (8-for-25) with two doubles and a homer.
Blackmon has been the classic blocked player because the Rockies have Carlos Gonzalez, Dexter Fowler and Michael Cuddyer in their regular outfield. Injuries in 2011 and 2012 didn't help. However, with Gonzalez and Fowler having missed extensive time with injuries this season, Blackmon has responded. He went into Saturday with a .299 batting average, five home runs and 19 RBIs.
His ability to play all three outfield positions and move to various spots in the order could be a boon to his future. Last year the Rockies listened to offers for Fowler. With Fowler signed for next season at $7.35 million, meaning there is cost certainty for a team wanting to trade for him, Blackmon and the impressive Corey Dickerson would be possibilities to step in if Fowler is dealt.
If Fowler is back, the Rockies have an interesting situation. Most analysts believe they need a right-handed hitter, but Blackmon and Dickerson, both lefty swingers, have made cases for regular playing time.
A second-round Draft pick in 2008, Blackmon was a regular leadoff man through 2010 at Tulsa. The ability to bat first could help his career, whether it's with the Rockies or another team. But Blackmon said he's not narrowing his focus.
"If you perform well, there hopefully will be a spot for you somewhere," he said. "Then again, you can't start projecting the future. This isn't something that our new group of outfielders has been doing all year."
Going into Saturday, Blackmon had an extra-base hit in his last six games. His doubles in five straight games through Thursday afternoon tied a club record, established six times by Todd Helton, most recently in 2004.
It's a confidence-building finish. In May during his first callup from Triple-A Colorado Springs, Blackmon hit .240 and found himself returned to the Minors. Since his July 8 recall, Blackmon has batted .307 with a .322 on-base percentage, 16 doubles, two triples and four homers.
"At this point, I'm overall trying to be a better baseball player, whether it's running the bases or throwing -- it's a big-picture kind of thing," Blackmon said. "I think I have the ability to do a lot of everything."
Blackmon played last winter in the Dominican Republic, but will spend the offseason in his hometown of Atlanta.
Thomas Harding is a reporter for MLB.com. Ian McCue is an associate reporter for MLB.com. This story was not subject to the approval of Major League Baseball or its clubs.