Twins fall behind early vs. A's, can't rally in Oakland
Twins fall behind early vs. A's, can't rally in Oakland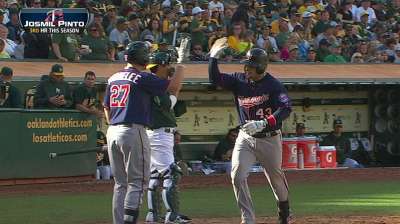 OAKLAND -- Facing a team on the verge of punching its postseason ticket is not an ideal scenario, as the Twins are finding out this weekend on the West Coast.
In their penultimate road game of the season, the Twins fell to the Athletics again, 9-1, after a two-hour, one-minute rain delay on Saturday at O.co Coliseum.
Minnesota has dropped five straight games to Oakland, which has a magic number of one to clinch the American League West.
"Any mistake you make right now, they jump on you. It's like pirahnas with blood in the water," Twins manager Ron Gardenhire said. "They're a hot baseball team, really getting after it. They just kicked our butts today.
"They can smell [the postseason], and we're in their way."
The Twins have yielded at least eight runs in each of those five consecutive defeats.
That said, the Twins entered Saturday's ballgame with high hopes for starter Pedro Hernandez. The club had won eight of his first 10 starts, and Gardenhire outlined Hernandez's key to success before coming out onto the field.
"He's got to use that slow pitch, that curveball," the skipper said of his young lefty. "He's got to have something a little bit bigger, a little bit loopier. That really sets it up. When he really started throwing it in his last outing, he had a couple good innings."
The breaking pitch bailed Hernandez out of a first-inning jam. Having already allowed an Alberto Callaspo RBI single, Hernandez walked the bases loaded before striking out Josh Reddick on a curveball to end the threat.
Hernandez found himself right back in trouble in the second. This time, a hanging curve to A's designated hitter Yoenis Cespedes ended up as a single to drive home two of Oakland's five runs in the inning.
Fastball location also seemed to be an issue. Callaspo pulled an over-the-plate heater for a two-run home run to score Cespedes and increase Oakland's lead to 6-0 after two innings.
"They made an adjustment to me in the second inning, and for that reason I gave up a lot of hits," Hernandez said.
All of a sudden, the starter's day was done. Hernandez (3-2) was charged with six runs on eight hits and a walk. He struck out a batter but threw just 28 of his 52 pitches for strikes in his 12th MLB start.
His battery mate, fellow Venezuelan Josmil Pinto, put the Twins on the scoreboard in the fifth, hitting a 1-2 Jarrod Parker changeup over the left-field fence. Pinto's seventh-inning single off A's reliever Dan Otero represented another of the Twins' six hits overall. In 15 career MLB games, the backstop has batted .377 (20-for-53).
"One-handed a home run into the seats. Pretty strong young man. He's fun to watch," Gardenhire said. "Every time somebody asks me, 'Who do you like? Who are you paying attention to?' I throw his name out there."
Parker (12-7) gave up four of the Twins' hits and left after six innings of one-run ball.
Right-hander Liam Hendriks relieved Hernandez in the third inning. Coming off his worst career start -- he yielded seven runs in just two-thirds of an inning last Monday -- Hendriks allowed at least a hit in each of his six innings of work.
"From the set, I felt so much more comfortable," said Hendriks, whose only mechanical adjustment was lengthening his stride. "I was staying back on everything and was able to throw everything over for a strike."
The Aussie appeared at his best in the sixth, striking out sluggers Josh Donaldson and Cespedes after first baseman Chris Colabello's error allowed Jed Lowrie to advance into scoring position.
Hendriks also yielded a two-run home run to Kurt Suzuki with no outs in the seventh, and a solo shot to Cespedes in the eighth.
"He threw some nice breaking balls," Gardenhire said. "His fastball was good, and those breaking balls made his fastball better.
"He at least gave us an opportunity to not kill our bullpen."
Hendriks, who struck out a career-high seven, was the first Twins pitcher to toss six innings of relief since teammate Anthony Swarzak accomplished the feat on June 10, 2011, against the Rangers. Hendriks threw 102 pitches in his first relief appearance since a rainout game at Double-A New Britain that same season.
"I would rather be a starter," Hendricks said, "but at the end of the day, if this is something they see for me, I'm not going to say, 'No.'"
Andrew Pentis is a contributor to MLB.com. This story was not subject to the approval of Major League Baseball or its clubs.