Rosario making strides behind the plate
Rosario making strides behind the plate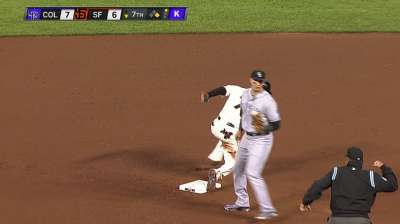 DENVER -- Wilin Rosario is learning on the fly.
As a rookie Rosario struggled defensively, allowing 21 passed balls and making 13 errors in 2012. But Rockies manager Walt Weiss has seen promising improvement from his young catcher in his sophomore year.
"I think he's blocked the ball really well this year," Weiss said. "I think his game-calling has gotten better and I think he's put a lot of time into it. He knows how important the relationship is with the pitcher and he's working to get better there. Just overall receiving. He's working on it."
Rosario's numbers back up Weiss' words. His passed balls are down to nine in 106 games (he played 105 in 2012) at catcher this year.
Though Rosario hasn't played since Tuesday and missed his fourth straight start Saturday against the D-backs due to strained right calf, the 24-year-old believes he will play before the season ends Sept. 29.
With a heavy wrap on his injured leg before the game, Rosario planned to take swings in the cage and Weiss said he remains "a few days away" from playing. Though the wrap has eased some of the pain, his legs are far from full strength.
"Right now, when I'm walking, I feel it too," he said. "When I run, I feel it more or when moving quickly."
While the wear and tear of being an everyday catcher might increase the risk for injury, Weiss emphasized once again that the club doesn't plan to convert Rosario into a first baseman. He started at first in four game this year -- committing two errors -- to give his legs a rest and still keep his bat in the lineup.
"No, those are not conversations we've had about him as far as playing another position," Weiss said. "I think it'd be limited action at first base, like you saw a little bit this year."
Thomas Harding is a reporter for MLB.com. Ian McCue is an associate reporter for MLB.com. This story was not subject to the approval of Major League Baseball or its clubs.