A's magic number at one after rout of Twins
A's magic number at one after rout of Twins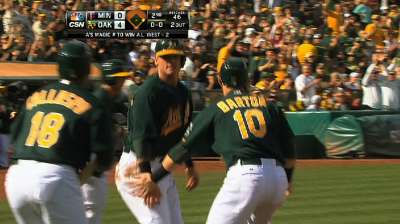 OAKLAND -- A rare, steady rain threatened play at the Coliseum on Saturday afternoon, as the anxiety of a potential clinching day for the A's escalated with each passing minute.
There was flooding in both dugouts, not to mention the second sewage issue of the week and third of the season, this time in Oakland's coaches office. But following a delay just north of two hours, there was the warmth of the sun, and a game was played.
Still, that anticipation lives on for another day.
Following Oakland's 9-1 victory over the Twins, the A's passed around goggles in their clubhouse and walked through sheets of plastic that adorned the lockers and anything else of value as their eyes mostly remained glued to the television.
A Rangers loss in Kansas City would've solidified the A's second straight American League West title. But despite a late homer off the bat of Eric Hosmer that narrowed Texas' lead to two in the ninth -- much to the pleasure of a roaring A's audience -- the Rangers pulled out a victory to keep Oakland's magic number at one.
"Show's over," quipped Grant Balfour, as A's players quickly abandoned the room, the plastic coming down, too.
Oakland now faces the strange scenario of potentially clinching in the middle of their Sunday matinee with the Twins, should the Rangers lose their afternoon contest against the Royals.
"It's the best thing that can happen for any team, not just for us, to qualify in your home city," said Yoenis Cespedes through a translator.
"It's just one of those ordeals. Whatever happens, happens," said Josh Donaldson. "We'll take care of it after the game's finished. We're going to continue to go out there and try to play our kind of baseball. We're going to try and win tomorrow even if that comes about. I'm sure if we're playing they'll do something on the loudspeaker or something.
"I think the most important part about having this lead and everything is we want to continue playing good baseball going into the playoffs. It's not something you want to go in playing bad. We feel like we're playing really well right now, but we want to continue to improve, because there's definitely room for improvement and we want to do that."
There was no way of knowing that by the looks of Saturday's performance.
The A's got to work early, posting a quick run in the first off Pedro Hernandez on the first of four Alberto Callaspo hits, before unloading for five more runs in the second.
Everything about the second inning spoke to the improvements made by Oakland's offense in the second half, which stands at the forefront of myriad reasons why the club is inching toward yet another division title.
There were contributions up and down the lineup, via small ball -- Nos. 8 and 9 hitters Michael Choice and Daric Barton singled in advance of Chris Young's sacrifice fly -- and, of course, the long ball. Callaspo's ninth of the season was a two-run shot that followed a two-run single by a scorching Cespedes.
Cespedes hit his 26th homer of the season and sixth of the month in the eighth, and he now has 19 RBIs in 18 September games, all behind Oakland's biggest other threat. Donaldson had two hits, giving him 55 multihit games on the season, and Jed Lowrie contributed at the two-spot in the lineup, too, with a trio of hits.
Even Kurt Suzuki, who has started just nine games since reuniting with the A's on Aug. 23, joined in on the fun, collecting a two-run homer in the seventh. Oakland has 79 home runs since the All-Star break, most in the Majors.
"Another good game for us," said manager Bob Melvin. "We're swinging the bats well and adding on and hitting home runs and doing a lot of things that we continue to do. The timing for that seems to be pretty good."
The offense's work seemingly overshadowed Jarrod Parker's, which was impressive on its own.
Oakland's young right-hander, who figures to get the nod for the first game of a potential AL Division Series, overcame an uncharacteristic outing in a big way, totaling six innings of one-run ball, his lone mistake a fourth-inning solo shot to Josmil Pinto.
"The way we were putting together great at-bats early, working the counts offensively," Parker said, "I just wanted us to get to the plate and try to get some early contact and early outs."
The A's are two wins shy of the 94 achieved last year, with seven games to play. They trailed the Rangers by as many as 7 1/2 games this season. As late as Aug. 30, that deficit was three games, but the A's have gone a Major League-best 17-5 since then. And, oh yeah, they have a 7 1/2-game division lead of their own, the title theirs as early as Sunday.
"We know it's right there," Parker said. "If we handle what we do and we win games, it's going to happen."
Jane Lee is a reporter for MLB.com. This story was not subject to the approval of Major League Baseball or its clubs.