Aramis joins Segura in sitting out on Saturday
Aramis joins Segura in sitting out on Saturday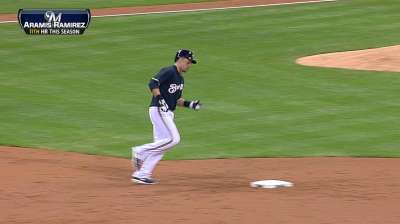 MILWAUKEE -- Brewers manager Ron Roenicke gave third baseman Aramis Ramirez a scheduled day off on Saturday, while All-Star shortstop Jean Segura remained out of the lineup while nursing a strained right hamstring.
Ramirez hit a three-run home run and drove in five runs on Friday, but Roenicke said the plan was to sit him Saturday for the season's home stretch.
"Ramie's getting a day," Roenicke said. "Have it mapped out a little bit going forward what we're going to do. So he'll be back in tomorrow.
"[Segura] is a little better again. But he's still not ready."
Left fielder Khris Davis was back in the starting lineup Saturday for the third time since injuring his left wrist. Davis has been available off the bench recently, but he has not made consecutive starts since Sept. 3-4.
"[He's] feeling better, still there," Roenicke said. "But we've got a couple left-handers coming up in the Atlanta series, and if he can get some at-bats here and there, he'll be ready for those. Not that we're taking this lightly. But it's a question of him with his wrist, and does he feel like he's going to set himself back by playing today?"
Kevin Massoth is an associate reporter for MLB.com. This story was not subject to the approval of Major League Baseball or its clubs.