Ellsbury is likely to return in regular season
Ellsbury is likely to return in regular season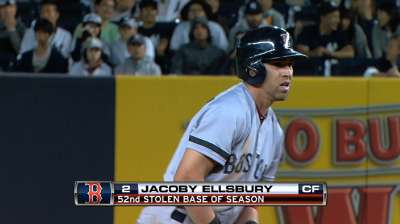 BOSTON -- Red Sox outfielder Jacoby Ellsbury, who has been sidelined with a foot injury, is still on track to return to the lineup before the last regular-season game against the Orioles on Sept. 29.
Ellsbury did some running, throwing and hitting on Saturday. He might take batting practice prior to Sunday's series finale with the Blue Jays.
So what are the Red Sox waiting for?
"Probably the first-step quickness, the explosiveness either in a stolen base or getting a read on a route in the outfield," manager John Farrell said.
Ellsbury hasn't played since Sept. 5. If he returns by the last regular-season game, he'll have needed less than a month to recover from a compression fracture in his right foot.
"He's making steady progress," Farrell said. "We're hopeful that he'll be back in our lineup sometime in this coming trip."
Jason Mastrodonato is a reporter for MLB.com. Follow him on Twitter @jmastrodonato. This story was not subject to the approval of Major League Baseball or its clubs.