Sandberg: Hernandez has future at second base, center
Sandberg: Hernandez has future at second base, center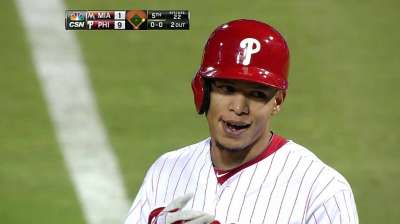 PHILADELPHIA -- Cesar Hernandez led off Saturday, starting in center field. When Phillies manager Ryne Sandberg was asked if Hernandez would be coming to Spring Training next year as a second baseman or a center fielder, he responded: "Yes."
"He's both," Sanderg said. "He's been a regular second baseman, and now he's getting Major League experience in center, and he's handled it fine. He's an interesting player, with his talent."
Hernandez is batting .365 over his last 15 games. Of his 20 starts with the Phillies, 13 have been in center and seven have been at second base. He batted .309 at Triple-A Lehigh Valley, playing primarily second base but moving to the outfield as the Phillies signed Chase Utley to a contract extension and decided to experiment with Hernandez's speed and range in center.
"One of his strengths is that he's a plus-bat," Sandberg said. "He has an ability to hit a fastball and adjust to other pitches. There's been games he's played here, facing pitchers he hasn't seen before, and he makes adjustments as the game goes on. We've seen his ability to hit the fastball, but I've seen him geared for the fastball and adjust to something else and still put the bat on the ball. He adjusts to what he sees.
"His bat plays, right now, on a regular basis."
Kevin Roberts is a contributor to MLB.com. This story was not subject to the approval of Major League Baseball or its clubs.