Kershaw cruises to 15th win in San Diego
Kershaw cruises to 15th win in San Diego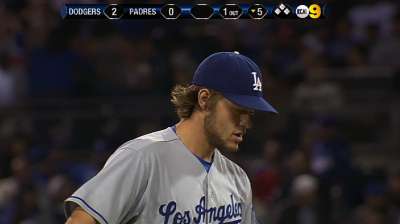 SAN DIEGO -- In addition to the pile of crazy statistics Clayton Kershaw has amassed, he's the favorite to win a second Cy Young Award because of the way he prepared to beat the Padres on Saturday night.
Kershaw had already lost to San Diego three times this year and he wasn't about to make it four. Out of his routine with three extra days of rest, Kershaw changed his game plan and pitched a three-hitter for seven innings in a 4-0 win, getting two-run homers from A.J. Ellis and Yasiel Puig.
"He was a little rusty today," deadpanned manager Don Mattingly.
Actually, Kershaw was pretty revved up. With input from Ellis and pitching coach Rick Honeycutt, Kershaw threw about 10 changeups against the Padres. Before the game, Honeycutt counted Kershaw throwing only 12 the entire second half.
"We took a long look at why the Padres were so successful against Clayton," said Ellis. "They grind at-bats better than anybody. They make the guy pitch. We made Clayton use the entire plate and he was all in. He was ready for something different. I hope he gained confidence. That changeup is his fourth pitch, but it can be a really good one and a useable weapon."
Pushed back in the rotation to save his arm -- and more importantly to set up the postseason rotation that he will lead -- Kershaw struck out 10 as the Dodgers rebounded from Friday night's virtual no-show when the starting lineup was rested and the reserves were shut out.
Kershaw (15-9) lowered his ERA to 1.88 and will make one last start on Friday night as he tries to become the first pitcher since Greg Maddux (1993-95) to lead the Major Leagues in ERA in three consecutive seasons. He leads the Major Leagues with 230 innings pitched and the National League with 224 strikeouts.
He's also on pace to become the first Dodgers pitcher since Sandy Koufax with a sub-2.00 ERA and the third in the Majors since 2000 (Roger Clemens, 1.87 in 2005 and Pedro Martinez, 1.74 in 2000). He walked two and threw 99 pitches.
"A.J. asked me to use all my pitches to both sides of the plate," said Kershaw. "This is a tough team for me, they battle me. They get my pitch count up. It felt good to finally get a win against those guys."
Ellis said he hopes Kershaw's changeup throws a wrinkle into the scouting reports for upcoming playoff opponents.
"That's part of the plan, to put in the back of their heads to think about," he said. "The rest of the week we can show different things, so the Dodgers can't be too predictable."
Back to work after the clinching pool party and a losing game of recuperation, the Dodgers were back to their division-championship form. Mattingly had a pregame meeting to rev up the intensity after Friday night's inevitable letdown.
"We want to win every game we can," said Ellis. "We want to be clicking on all cylinders and ready to go for the first playoff game. I hope we use the last week to challenge ourselves to get better and strong and sharpen things up."
Burch Smith ran the Padres out of the third inning, which wasn't a complete surprise because he's a rookie pitcher who had been on base in the Major Leagues only once before he led off with a single. Chris Denorfia walked, Chase Headley struck out and then Jedd Gyorko grounded to Mark Ellis, who threw to first baseman Adrian Gonzalez, who threw home to easily erase Smith.
"We had guys on but he really bears down with guys on base," Gyorko said of Kershaw. "Before [previous game against Kershaw], we had key hits. You can't get them all the time, especially against him."
Maybe Smith's misadventures on the bases took something out of him, because the Ellises gave Kershaw a 2-0 lead in the top of the fourth, Mark working a one-out walk after fouling off three two-strike pitches, A.J. following up his division-clincher from Thursday with a liner over the left-field fence for his ninth of the year.
Kershaw went looking for insurance runs when he led off the seventh inning with a perfect bunt single and he got them when Puig launched a booming 457-foot home run on a first-pitch fastball from reliever Tim Stauffer that landed atop the tall shrub halfway up the batter's eye in center field. The Padres must have lost the scouting report on Puig, who has hit eight home runs on first-pitch fast balls.
It was Puig's 18th homer, fifth against San Diego, the longest home run hit at night in the history of cavernous Petco Park and the second-longest in the ballpark's history. The longest? Puig teammate and former Padre Gonzalez at 458 feet.
Mattingly was impressed with the prodigious shot, but suggested that a home run Hanley Ramirez hit here in June would have gone "300 feet past" if it hadn't hit the Western Metal Supply warehouse in left field.
Ken Gurnick is a reporter for MLB.com. This story was not subject to the approval of Major League Baseball or its clubs.