Smith bested by Dodgers ace Kershaw
Smith bested by Dodgers ace Kershaw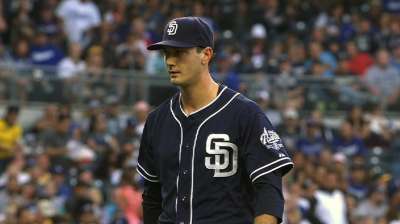 SAN DIEGO -- The Padres continue to be impressed by 23-year-old rookie pitcher Burch Smith -- and also continue to marvel at what his counterpart Saturday night, the Dodgers' Clayton Kershaw, is capable of.
Smith allowed two runs over six innings in another strong September start but was ultimately upstaged by Kershaw, who threw seven shutout innings as the Dodgers defeated the Padres, 4-0, before a crowd of 40,572 at Petco Park.
"I'm doing some good thing, taking some steps in the right direction," Smith said. "And to do it against these types of lineups is comforting. It just comes down to making the right pitch.
"I can always be better."
The perfect example of "better" was across the way, as Kershaw -- who at 25 is just two years older than Smith -- shook off some early cobwebs and pitched a gem, improving to 15-9 while lowering his ERA to a scant 1.88.
Kershaw allowed three hits with two walks and had 10 strikeouts, picking up steam the further he moved into the game.
"We had guys on but he really bears down with guys on base," said Padres second baseman Jedd Gyorko.
Kershaw, who looks to be the favorite to win the National League Cy Young Award, went into Saturday's game looking for something that had eluded him -- a victory over the Padres.
Kershaw went into the game 0-3 with a 4.67 ERA in three starts against the Padres in 2013. He struggled early in this one, allowing two base runners in the first and third innings. In fact, that third inning ended with Smith being thrown out on the plate on an infield ground ball.
But there weren't many scoring chances thereafter, as Kershaw settled into a nice groove, pounding the strike zone, working fast and showing his usual dominant stuff.
"They're a tough team. They battle me," Kershaw said of the Padres. "They get my pitch count up. It felt good to finally get a win against those guys."
Kershaw retired nine consecutive hitters between the third and sixth innings when Chase Headley lined a double into the left field corner. But Kershaw came back to strike out Gyorko and then got Jesus Guzman on a ground ball to keep the shutout intact.
"We were in position a couple of times to get him but couldn't get that big hit," said Padres manager Bud Black. "He made some pitches when he needed to. The curveball really came into play for him ... and the changeup. He used his mix of pitches."
Smith, despite not having the quality of changeup hewhen he tossed seven shutout innings against the Braves on Saturday, hung with Kershaw in the early innings. In the fourth, he walked Mark Ellis with one out in the inning and left a changeup up that A.J. Ellis hit for a two-run home run to left field.
All told, he allowed three hits with five walks and six strikeouts. He'll have one more start before heading to the Arizona Fall League next month.
"He pitched fine," Black said. "He had the two walks in the first but this was a step in the right direction overall. I like that he held his velocity. The intent was to be aggressive, I like that. It was a good outing for Burch."
In three starts this month, Smith is 1-1 with a 2.00 ERA. He has 23 strikeouts in 18 innings and opposing teams are hitting .156 against him.
The Dodgers turned their 2-0 lead into a four-run advantage in the seventh inning when Yasiel Puig got a hold of a fastball from relief pitcher Tim Stauffer, sending it into one of two ficus shrubs that are in front of the batter's eye in center field.
The ball was estimated at 457 feet, one foot short of a home run that Adrian Gonzalez hit for the Padres in 2009, which is the longest in ballpark history.
"He squared that one up," Black said.
Corey Brock is a reporter for MLB.com. Keep track of @FollowThePadres on Twitter. This story was not subject to the approval of Major League Baseball or its clubs.