McHugh knocked around as Rockies fall to D-backs
McHugh knocked around as Rockies fall to D-backs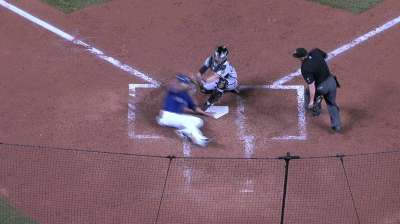 DENVER -- Rockies right-handed pitcher Collin McHugh has pitched only occasionally in the last month-plus. Saturday night's five innings do not count as a good occasion.
The D-backs bested him for six runs and 11 hits, including Matt Davidson's second homer of the season for three runs in the third inning, as the Rockies fell, 7-2, at Coors Field in front of 36,005.
After McHugh made his last appearance for Triple-A Colorado Springs on Aug. 16, he didn't appear in game action until he had an eye-opening outing -- going five innings and allowing four hits and one run -- against the Cardinals on Monday night. But Saturday, when he started because Jorge De La Rosa's left thumb bruise and other hand injuries hadn't healed sufficiently, he was nowhere near as smooth.
"I was kind of disappointed -- too many balls up in the middle of the plate," said McHugh, who joined the Rockies in a June 18 trade with the Mets for outfielder Eric Young Jr. "I had success my last outing by keeping the ball down, keeping the ball out of the middle of the plate. Tonight I got beat in a couple of big spots. My command was not great today."
Manager Walt Weiss said the positive was McHugh made it through five innings. Bullpen usage was high during a four-game split with the Cardinals, and one of those games went 15 innings.
"The three-run homer was big against him and it turned into a big inning, but he did a nice job throwing a couple of zeroes up after that because our 'pen was a little short," Weiss said.
Martin Prado's RBI double in the first and Tuffy Gosewisch's RBI single in the second put McHugh down, 2-0. Davidson's three-run homer to straightaway center was one of five D-backs hits off McHugh in the third. After the homer, Gerardo Parra and Chris Owings had consecutive doubles, the second of which gave the D-backs a 6-0 lead.
The Rockies had a chance in the first against D-backs starter Trevor Cahill when Charlie Blackmon (3-for-5) doubled and DJ LeMahieu singled off Cahill's right hip. But Cahill sandwiched strikeouts of Corey Dickerson and Charlie Culberson around Todd Helton's lineout.
"I know it's only the first inning and it's hard to say that changed the game, but it changed it early," Weiss said. "Cahill's got the good sinker. We knew that. He had a good breaking ball tonight. It made it tough on us."
The D-backs were eliminated from playoff contention Friday. The Rockies, last in the National League West, have long been in prepare-for-2014 mode. Blackmon, who has played well in the leadoff role while Dexter Fowler nurses a twisted left knee, and Culberson, playing left field with All-Star Carlos Gonzalez out with a sprained right middle finger, are among those making the most of their chances.
Culberson, a rookie who is converting from infield to outfield at the Major League level, singled in the sixth to run his hit streak to nine games.
"It's a nice roll, I guess," Culberson said. "A few of those hits have been pinch-hits. I'm getting a few starts and going out and having fun. Things are going pretty well."
Helton, whose planned retirement at the end of the season is a big reason the Rockies are drawing healthy crowds even though they're last in the National League West, manufactured a run with his not-so-fleet feet in the fourth. He reached on an infield single off the glove of Paul Goldschmidt, went to third when catcher Gosewisch threw wildly after fielding Culberson's bunt, and slid around Gosewisch's tag after Jordan Pacheco flied to right in foul ground.
Jonathan Herrera added an RBI single in the sixth. Cahill gave up two runs -- one earned -- on seven hits over 5 2/3 innings.
"That line drive hit him in the hip where he was hit before so he was hurt a little bit, but he got through it with only one walk," D-backs manager Kirk Gibson said. "When he doesn't walk people, he wins."
Thomas Harding is a reporter for MLB.com. Read his blog, Hardball in the Rockies, and follow him on Twitter @harding_at_mlb. This story was not subject to the approval of Major League Baseball or its clubs.