Cahill continues hot streak as D-backs down Rox
Cahill continues hot streak as D-backs down Rox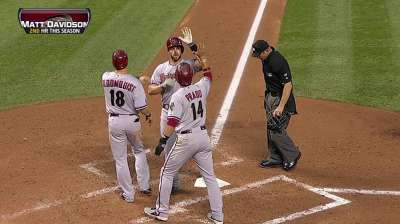 DENVER -- The 2013 season did not go the way Trevor Cahill wanted, but the D-backs right-hander is certainly finishing it on a strong note.
In his second-to-last start of the year, the right-hander allowed just one earned run over 5 2/3 innings as the D-backs beat the Rockies, 7-2, on Saturday night at Coors Field.
The two teams will play the rubber game of the series Sunday afternoon.
Cahill has struggled with keeping his mechanics consistent as well as injuries, and after his start Aug. 17, his ERA was 4.78.
After his outing Saturday it was down to 4.02.
"I'm definitely still not where I want to be," Cahill said.
The D-backs gave Cahill some runs to work with early in the game.
Martin Prado drove home a run in the first with a double to left and Tuffy Gosewisch's RBI single in the second gave Arizona a 2-0 lead.
The D-backs seized control of the game in the third as they scored four times off Colorado starter Collin McHugh thanks to a pair of rookies.
The big blow of the inning was Matt Davidson's three-run homer to dead center.
"I'm not thinking about anything, I'm just trying to battle," Davidson said of his approach on the 2-2 pitch. "Just trying to keep everything super simple and just see the ball and then just react. That's all I was doing. I wasn't thinking anything. It was two strikes, just battling."
It was the rookie's second big league homer and it came days after he tweaked his mechanics at the plate to eliminate a leg kick and instead get his front foot down quicker.
"Just taking a small little step and getting my foot down so that's all," Davidson said. "And it's feeling comfortable right now. It's giving me just a better chance to be on time every pitch."
Later in the frame, fellow rookie Chris Owings doubled to center to bring home Gerardo Parra and give the D-backs a 6-0 lead.
"They're playing good, they're playing comfortable," manager Kirk Gibson said of the rookies. "I moved C.O. over to second tonight, he hasn't done that a lot, had three hits. Davey's got good sock in his bat, we know that and he hit a big three-run home run for us so those guys are playing well."
McHugh, a rookie himself, was starting in place of injured Rockies ace Jorge De La Rosa.
"Their guys put some swings on good pitches," McHugh said. "Compound that with some mistakes in some big situations."
The Rockies scored an unearned run off Cahill in the fourth thanks in part to a throwing error by Gosewisch.
The only earned run Cahill allowed came in the sixth and he wound up walking one and striking out five.
"When he doesn't walk people, he wins," Gibson said.
Cahill missed time earlier this year when a line drive struck him on his right hip and the D-backs got a scare in the first inning when D.J. LeMahieu lined a shot right back up the middle that hit Cahill square.
"Actually, that line drive hit him in the hip where he was hit before, so he was hurt a little bit, but he got through it with only one walk," Gibson said.
Cahill said he will spend time this offseason working on the way he finishes his pitches so that he is in a better position to field balls hit back at him like that.
"It wasn't as bad, though," Cahill said of this shot to his hip compared to the one on June 19. "It kind of glanced off. It was kind of sore for a couple of innings and actually felt better as the game went along. Pushing off, I felt it on a couple of pitches, but that was it. I tried not to think about it. After a couple of innings, I didn't feel it at all."
Steve Gilbert is a reporter for MLB.com. Read his blog, Inside the D-backs, and follow him on Twitter @SteveGilbertMLB. This story was not subject to the approval of Major League Baseball or its clubs.