Hurdle disagrees with warnings policy after HBP
Hurdle disagrees with warnings policy after HBP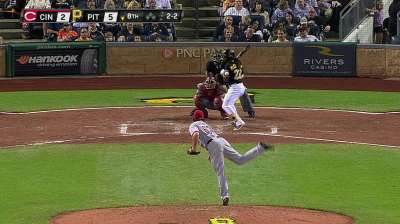 PITTSBURGH -- Fair or foul, safe or out -- those are baseball's concrete decisions. Everything else is pretty much a judgment call, and most infuriating among them is determining a pitcher's intent and how to deal with the consequences.
That certainly is one ambiguity that sends Pirates manager Clint Hurdle up a wall -- and on Friday night it sent him to an early shower after he questioned plate umpire Mark Carlson's decision to warn both benches after Sam LeCure had plunked Andrew McCutchen with an eighth-inning fastball.
"The guy that does wrong gets a Mulligan, then nobody else can play. Everybody else gets shut down," Hurdle said Saturday, referring to the automatic ejections following warnings. "At the end of the day, I don't agree with the policy."
Hurdle was even less understanding after learning that the umpiring crew working this series had been cautioned in advance by MLB about possible hostilities. So why not issue the warnings pregame, something neither team would have liked but at least would have been equitable, rather than wait until Cincinnati got in one lick?
By the time LeCure approached first base "to apologize," according to McCutchen, Carlson's warnings had been out of the bag. LeCure's gesture did further convince McCutchen the pitch had been accidental.
"Yeah, there was intent," McCutchen said, "he intended to throw inside. He wasn't trying to hit me. Getting hit [stinks], and hurts. I happen to be the guy who gets hit. I think they just have a game plan, to throw inside -- and, if they miss, miss inside, not over the plate. Because they know what's going to happen if they miss there -- and that's what I'm looking forward to."
Any Pirates retaliation would be out of the question should the umpires issue warnings even before the start of the teams' next game.
Otherwise ... Hurdle took a "we'll see" approach. McCutchen was more definitive about dismissing the get-even factor.
"That's not the type of team we are," McCutchen said. "We're not going to try to retaliate, just try to win a game. It's not like you can just hit someone and get away with it; you may have to pay for it in a big way -- maybe the next guy hits a home run. It's not in our game plan."
Tom Singer is a reporter for MLB.com and writes an MLBlog Change for a Nickel. He can also be found on Twitter @Tom_Singer. This story was not subject to the approval of Major League Baseball or its clubs.