Buehrle gets Blue Jays even with Red Sox
Buehrle gets Blue Jays even with Red Sox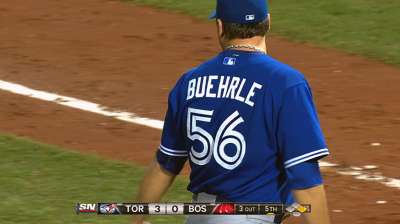 BOSTON -- The Blue Jays found out the hard way this season that performance from the starting rotation is incredibly hard to predict, but Mark Buehrle seems to be the exception to that rule year after year.
The veteran left-hander has been as close as there is to a sure thing in baseball for more than a decade. It's a difficult task to accomplish, but it's something that Buehrle makes look relatively easy no matter what uniform he has on.
Buehrle reached another milestone on Saturday night as he surpassed the 200-inning plateau for the 13th consecutive season while leading the Blue Jays to a 4-2 victory over the Red Sox with another masterful performance at Fenway Park.
"That was one thing coming into the season that I set my goal at," Buehrle said of reaching 200 innings. "I wish it was in a better situation and we're in a better spot, but I felt like I went out there and had a pretty good year so far. Going out there deep into games and getting to 200.
"It was a goal I set in Spring Training and as far as me personally, I'm happy with getting the goal that I set and the one I set every year."
Buehrle's impressive run began in 2001 and has now included 428 straight starts without a stint on the disabled list. The durable pitcher also has at least 10 victories in all of those seasons with nine of the years including a sub-4.00 ERA.
The 34-year-old entered with a career 4.47 ERA against the Red Sox, but was relatively flawless in this one. He allowed just one run on five hits while striking out five over six strong innings to earn his 12th victory of the season.
Buehrle also matched knuckleballer R.A. Dickey for the team lead in quality starts with 18. Buehrle arguably has been the club's most reliable pitcher and after a slow start to the season, he is now 11-7 with an impressive 3.33 ERA since May 11.
The last pitcher to record at least 200 innings in 13 consecutive seasons was Greg Maddux. The 23-year veteran tossed 200-plus innings from 1988-2001 before coming up just two-thirds of an inning shy in 2002 and then reaching the milestone an additional four times.
Buehrle also will soon become the active leader in both starts and innings among Major League pitchers. Andy Pettitte currently holds those distinctions, but the Yankees' left-hander announced earlier this week that he will retire at the end of the season.
"To reach those spots and get there is a pretty cool accomplishment, but at the same time, I think it's something that I'll look back at more when I retire or sit back after baseball's over and realize the kind of stuff that I did," Buehrle said. "I think it will mean a little more then, now that's all I know how to do. Take the ball every fifth day and go as deep as you can."
The only real difficulty Buehrle found himself in was during the sixth inning. He surrendered a leadoff single and then plunked outfielder Shane Victorino to put runners on first and second.
Blue Jays catcher J.P. Arencibia immediately argued while manager John Gibbons ran onto the field to protest the call as well. They believed Victorino stepped into the pitch, which appeared to be a strike.
Boston later scored its first run on Jonny Gomes' single to left. Buehrle escaped the jam with a key double play and was then lifted in favor of right-hander Dustin McGowan. It marked the seventh time in Buehrle's last eight outings that he allowed two earned runs or fewer.
"He's had a tremendous year," Gibbons said. "Slow start and then he kicked it in. He's Steady Eddie. He's been doing what he's done his whole career. It's pretty amazing. He's logged so many innings over the years ... think about that. Never been on the DL. He's a rare guy.
"It was nice to get the win for him here tonight. It's a pleasure. I've said before, you get 25 Buehrles, you're probably going to have a good year. You need more guys like that."
The Blue Jays got all the scoring they needed in the fourth inning against right-hander Clay Buchholz. Brett Lawrie got the rally started with a two-out infield single to third base and scored when Adam Lind followed with a double over the head of Victorino. Moises Sierra and Rajai Davis followed with a pair of singles with the final run scoring on an errant pickoff attempt by Buchholz.
Toronto added a fourth run in the ninth inning when Arencibia snapped an 0-for-27 skid at the plate with an RBI single off the Green Monster. Buchholz allowed three runs -- two earned -- on six hits while striking out two over six innings.
"I could have done a little bit better job of minimizing damage in that fourth inning, but other than that, the only thing I really had trouble with was getting the fastball into lefties," Buchholz said. "The two-seamer, started in on the plate and it was leaking middle. It got squared up a couple times. I think they had a good approach out there tonight. They laid off the offspeed stuff early and got into predictable fastball counts."
Toronto is 1-1 on its final road trip. The club will wrap up its series in Boston on Sunday before heading to Chicago on Monday for a makeup game and then finish the trip with three games against the Orioles Tuesday through Thursday.
Gregor Chisholm is a reporter for MLB.com. Read his blog, North of the Border, and follow him on Twitter @gregorMLB. This story was not subject to the approval of Major League Baseball or its clubs.