Sox clipped by Jays in quest for home field
Sox clipped by Jays in quest for home field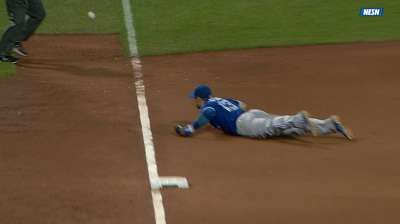 BOSTON -- Seventy-four pitches, to 91 pitches, to 106 pitches.
Clay Buchholz on Saturday night took another step toward full recovery from a bursa sac injury that kept him out of action for more than three months.
The Red Sox dropped a 4-2 decision to the Blue Jays, but with the American League East title wrapped up and a 1 1/2-game lead over the A's for best record and postseason home-field advantage, Buchholz's progress in pitch count might have trumped the outcome.
In his third start since June 8, Buchholz was brilliant at times, shaky at other points, but completed six strong innings, allowing three runs (two earned) on six hits and two walks. He struck out two.
"The three runs doesn't dictate how he pitched tonight," said catcher David Ross. "His pitches were sharper. I thought he had better fastball command. His sinker was really sinking. We talked a lot before the game and I think he found some mechanical issues, or some sharper things in the bullpen that made the ball really move."
Through the first three innings, Buchholz might as well have flipped the calendar back to April. The first at-bat of the game had beauty in itself.
Buchholz worked Blue Jays' leadoff man and former National League batting champion Jose Reyes to a full count before dropping a 92-mph two-seam fastball -- Buchholz's signature pitch -- through the bottom of the strike zone. Reyes whiffed and Ross marveled.
"Yeah that's what I'm talking about," Ross said. "His two-seamer moved really, really good today. The 3-2 pitch he threw the first at-bat to Reyes, just a two-seamer middle, and it's almost like a 92-mph changeup that had really good depth to it. It was nice."
Buchholz was perfect through three innings before some defensive miscues and spotty command cost him a few runs in the fourth.
With two outs, rookie third baseman Xander Bogaerts double-clutched on a routine grounder before making a late throw to first base, beaten by the hustling Brett Lawrie. Three hits later, the Blue Jays had a 3-0 lead.
"You got to hustle in this business," said Blue Jays manager John Gibbons. "That's how you make things happen."
While the Red Sox were impressed by Buchholz's power and pitch sharpness, his command has been a work in progress.
"It was better," he said. "I mean, big situations where I needed to make a pitch, I either missed bad or it was middle. Against any team, especially a team that has a lot of threats in the lineup to hit the ball hard into the gaps, home runs, it's tough to survive like that. I've got Baltimore coming up next time out. We'll continue working on it."
Still, 106 pitches was a big number. Buchholz asked for another inning, but manager John Farrell advised against it. Buchholz has one more start to make in a pre-postseason tuneup.
In 17 innings since returning from the disabled list, Buchholz has allowed 11 hits while striking out 11, walking seven and posting a 1.06 ERA.
"As far as Clay is concerned, the stuff he had, the endurance he showed -- a positive night for him," Farrell said.
On the offensive side, the Red Sox's thin lineup had a hard time against veteran lefty Mark Buehrle, who has a 3.31 ERA in five starts against them this season.
Dustin Pedroia, Mike Napoli, Jarrod Saltalamacchia and Mike Carp were all out of the lineup as the Red Sox took advantage of the luxury to rest even their best players in the team's final regular-season games.
Pedroia might have been due for some rest. He had played in 154 of the team's 155 games before Saturday, and he made a pinch-hitting appearance in the seventh inning before remaining in the game at second base.
Saltalamacchia was finally catching a breather rather than catching fastballs. He's been behind the plate for 974 innings this season, in which he's had an offensive breakthrough, posting the highest OPS (.788) of his career.
Ross, his replacement, had an electric night defensively. Ross gunned down all three runners attempting to steal. Reyes, Rajai Davis and Anthony Gose were the victims. Ross has successfully thrown out 13-of-32 (41 percent) of attempted basestealers this season.
"When you're hitting .200, you better bring something to the team," Ross joked.
Will Middlebrooks made a seamless transition across the diamond in his first career start at first base, a position he's trying to learn to give the team added flexibility in late-game scenarios.
And Ryan Dempster pitched a scoreless inning in relief. It was the first time since 2007 that he's pitched out of the bullpen. A closer for the Cubs for three years, the 36-year-old right-hander was moved to the bullpen for the remainder of the season.
"We're trying to do something special here, trying to go out there and compete for a championship," Dempster said. "I feel like I can help and get righties and lefties out. Hopefully, I can be a guy they can lean on in the biggest pressure situations there are, those are the kinds of things you live for.''
Shane Victorino was hit by a pitch for the American League-leading 19th time this season.
Jason Mastrodonato is a reporter for MLB.com. Follow him on Twitter @jmastrodonato. This story was not subject to the approval of Major League Baseball or its clubs.