Choo out with sore thumb after headfirst slide
Choo out with sore thumb after headfirst slide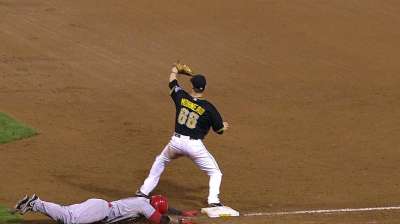 PITTSBURGH -- Reds center fielder and leadoff hitter Shin-Soo Choo was out of Saturday's lineup vs. the Pirates with a jammed left thumb. Derrick Robinson led off and played center field in his place.
Choo was injured when his thumb hit first base as he attempted a headfirst slide in the top of the ninth inning of Friday's 6-5 win over the Pirates in 10 innings. During a three-run rally, he was trying to beat out a ball that ricocheted off of pitcher Tony Watson for a potential two-out single and go-ahead run, but he was called out.
"It's not really bad. It's a little sore," Choo said on Saturday. "It was the same thumb that had surgery in 2011. We're looking for the playoffs and a big series coming up. I don't want to make it worse. So maybe it's one or two days."
Choo was lifted in a double-switch and replaced by Billy Hamilton after the ninth inning. He regrets sliding headfirst into first base, which is something he is not known for doing.
"Stupid play," Choo said. "I tell myself, and I tell a lot of players, the worst play is the headfirst slide into first base and home plate. But I did it. I don't know why I did it. It's a situation, big game, tie ballgame, we came about. I don't know, my body just did it."
Choo was scheduled to be seen by a doctor on Saturday evening.
"I know they're hustling, but I hate to see guys sliding headfirst into especially first base," Reds manager Dusty Baker said. "You don't get there any quicker. It's been said that you actually get there slower. There are a lot of things you can hurt. Hopefully he's not banged up too bad."
Baker decided to start Robinson over Hamilton against Pirates pitcher A.J. Burnett despite Hamilton being 10-for-10 in steals and scoring seven runs entering the night.
"I thought Robinson could handle Burnett better," Baker said. "I've got to bring Hamilton along slowly and [against] who I think he can hit the best. Right now, you've got a wily veteran facing a kid. Hamilton will play [Sunday], I've got a kid facing a kid."
Pittsburgh is scheduled to start lefty Jeff Locke on Sunday vs. Bronson Arroyo.
Mark Sheldon is a reporter for MLB.com. Read his blog, Mark My Word, and follow him on Twitter @m_sheldon. This story was not subject to the approval of Major League Baseball or its clubs.