Reds evaluating rotation options for final series
Reds evaluating rotation options for final series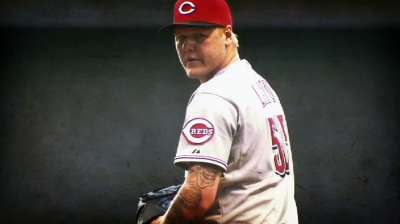 PITTSBURGH -- The Reds have not listed a probable pitching rotation beyond the next series vs. the Mets when Johnny Cueto, Mike Leake and Greg Reynolds pitch Monday, Tuesday and Wednesday, respectively.
"I know you guys want answers, but we don't have answers ourselves," Reds manager Dusty Baker said on Saturday. "You can be the Dodgers, which we were last year, and clinch early enough to set your rotation. This year isn't the case. Everybody wants that."
It's possible that the Reds could return with Mat Latos, Homer Bailey and Bronson Arroyo to face the Pirates again in Cincinnati next weekend. But starting Latos on Friday would mean he might be pitching on short rest in a potential Wild Card game or tiebreaker. Latos could conceivably pitch Wednesday against the Mets on normal rest, however, which would keep him ready for the possibility of a Wild Card game or tiebreaker. The Reds could also wind up as National League Central winners.
"You know what? We have to worry about the season first," Latos said. "Let's worry about getting there, and then we'll figure it out. Every game is what counts, especially with this big series, and we play them again. We have to win. I will go out there whenever Dusty tells me to go out there."
Mark Sheldon is a reporter for MLB.com. Read his blog, Mark My Word, and follow him on Twitter @m_sheldon. This story was not subject to the approval of Major League Baseball or its clubs.