Improbable rally cuts Tigers' magic number to two
Improbable rally cuts Tigers' magic number to two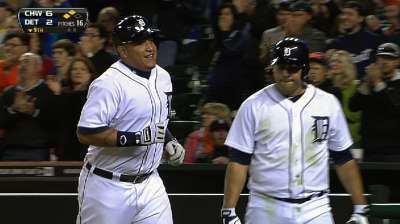 DETROIT -- The Tigers have a chance to clinch their third consecutive division title in front of their home fans Sunday afternoon, their magic number whittled to two. If they do, it might still be hard to top the atmosphere they had Saturday night after pulling off a 7-6 win in 12 innings over the White Sox.
They've felt pretty confident all year in their chances at winning the American League Central. They couldn't say the same for their chances at hitting Chris Sale.
"Anytime he leaves the game, everybody usually gets pretty happy," said Andy Dirks, who was on the bench waiting for a chance to hit whenever Sale left the game.
Even when he did, the manager who preaches 27 outs couldn't blame some among the 41,772 for leaving when they faced a 6-0 deficit in the ninth.
"I don't blame people," Leyland said. "I could see some people leaving. It's getting late. They're getting the kids home. I'm just happy for the ones that did stay."
It looked like they were about to watch Sale pick up his fourth win against the Tigers. Instead, they were watching a setup for history. Once the Tigers sent the middle of their order up in the ninth against the White Sox bullpen, it looked like nothing they had seen.
"That was unbelievable," said Don Kelly, who scored the winning run in the 12th on Omar Infante's infield single. "I can't remember anything six runs down, obviously. We've had some comebacks, but to be able to put up six and win it in extras, that was fun."
In fact, unless they were at Briggs Stadium to watch Vic Wertz, George Kell and Hoot Evers beat up on the Washington Senators on Aug. 22, 1947, nobody had seen it.
No Tigers team in 66 years had come back from a six-run deficit in the ninth inning to win a game. This year's team erased a three-run gap in the ninth last month against Oakland, capped by a three-run walkoff homer from Hunter, but that was a warmup compared to this.
They hit for the cycle against hard-throwing White Sox reliever Nate Jones within their first five batters of the ninth, capped by Dirks' pinch-hit, three-run homer. They loaded the bases on walks within the next four batters after that. They batted around in the ninth, their lone out coming on a sacrifice bunt, and they still needed a Hunter sacrifice fly to tie it.
"We were starting to smell it when we kept it going there," Leyland said. "I think guys started to smell it, really got into it."
That's how big this comeback was.
"We never give up," Hunter said. "As long as we have outs, we're good. We're professional guys. We've been around the game a long time, had a lot of failures. But one thing you learn with experience, you never give up. Anything can happen, and that's what we did that inning. But when Dirks hit that home run, I think that was the crushing gut shot."
By that point, the scoreless pitching duel between Sale and Rick Porcello was unrecognizable. Two seventh-inning runs off Porcello, then four more off Detroit's bullpen seemingly had Sale ready to boost his record once more.
The one catch was that Sale wouldn't have a chance to finish it. Though Austin Jackson was 2-for-30 against him when he stepped to the plate with two outs in the eighth as the potential tying run in a 3-0 game, White Sox manager Robin Ventura went to Jones.
Jones ended the threat with a Jackson groundout, but the Tigers were still thankful. It was the only out he recorded, despite facing five batters in the ninth, starting with Hunter's leadoff triple and continuing with back-to-back singles from Miguel Cabrera and Prince Fielder.
"It seemed like we just kind of turned it up a notch," Jackson said. "We kept going up there and having good ABs, working the counts. And when we did get a good pitch to hit, we hit it hard and put it in play."
Two pitches later, what looked like a face-saving rally became a game-changer. Victor Martinez turned on a first-pitch, 98-mph fastball from Jones and lined it into the right-field corner for an RBI double and a 6-2 game. Dirks promptly stepped in to pinch-hit for Matt Tuiasosopo, looking to jump a first-pitch fastball.
"It's not one of those situations where it's easy to let a pitch go by, maybe strike one, and then he can kind of work you the way he wants," Dirks said.
He got a slider and jumped on it anyway, sending it into the right-field seats.
"If it's around the zone, you have to take a whack at it," Dirks said, "because you haven't seen a pitch yet and you're facing the bullpen guys and they're usually pretty good. I think if something's in the zone, you have to take a hack at it."
The tying run got on and moved around thanks to a wild performance from closer Addison Reed. By the time he regrouped, Hunter was back up, needing only a sacrifice fly to tie it. He wasn't waiting, either.
"I've faced him too many times to see what he's got," Hunter said. "I was actually trying to get the ball up. I wanted to get something up. He threw a pitch low and I took it, but I wanted something up that I could put in the outfield."
Donnie Veal stranded the winning run at third by retiring Fielder, then sent down the Tigers in order in 10th, but he only delayed their fate. With the back end of Detroit's bullpen now involved, the Tigers could test the depth of the White Sox bullpen. Rookie Jake Petricka stranded the potential winning run at third in the 11th with a Hunter groundout, but walked the bases loaded in the 12th.
Infante hit a comebacker to the first-base side of the mound, giving Petricka a chance at a double play if he could snare it cleanly. He couldn't, leaving the ball rolling to second as Kelly came home.
"The game's hard unless you get 27 outs," Ventura said. "You look at it with no game clock. They kept battling, good at-bat after good at-bat. We have our guys that you trust going at there, and just didn't get it done."
Jason Beck is a reporter for MLB.com. Read Beck's Blog and follow him on Twitter @beckjason. This story was not subject to the approval of Major League Baseball or its clubs.